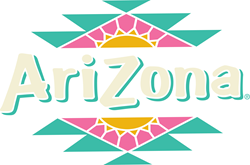 Woodbury, NY (PRWEB) October 07, 2015
AriZona's popular fruit juice and Arnold Palmer beverages are bursting into the energy + recovery category. For the first time ever, Watermelon, Mucho Mango, Fruit Punch and Arnold Palmer will hit the shelves with an added boost of natural energy using a blend of cutting edge, functional ingredients.
Made with a natural energy blend of guarana, green and white tea and green coffee extract, our unique formula also contains coconut water, essential vitamins, super fruits, resveratrol and BCAAS, providing performance-enhancing benefits with 120mg of caffeine per can.
Naturally sweetened at 100 calories per can of Arnold Palmer and 140 calories per can of Watermelon, Fruit Punch and Mucho Mango, these products are unlike any other energy beverage on the market. Containing no artificial colors or preservatives while staying true to their timeless and celebrated taste, AriZona fans can now enjoy these supercharged AZ classics to help them get through their day.
AriZona's Arnold Palmer, Watermelon, Fruit Punch and Mucho Mango Energy beverages will be sold in vibrant 16-ounce cans in select stores along the east coast, with an introductory retail price of 2/$3.00.
For images or more information on AriZona's Fruit Juice or Arnold Palmer Energy please visit http://www.drinkarizona.com.
####
About AriZona
AriZona Beverages, founded in Brooklyn, N.Y. in 1992, is proud to be a family owned and operated American company. AriZona's mission is to offer top quality beverages in uniquely designed packages that are accessible and affordable. AriZona Beverages — makers of the number one ready-to-drink Iced Tea in America - holds a unique position in the global beverage industry with its iconic $0.99 big can and "keeping it real" no frills approach to the consumer market. AriZona never pays for glitzy advertising campaigns to gain consumer loyalty and is constantly ahead of the curve, carving out trends without the use of focus groups and market research. With a loyal following across various demographics, AriZona pulls its own inspiration from its fierce social media following and devoted fan base. To learn more about the AriZona please visit drinkarizona.com; Facebook: AriZonaIcedTea; Twitter/Instagram/Pinterest: @DrinkAriZona
For more information contact:
Jennifer Smith, Director of Communications: Jennifer(at)drinkarizona(dot)com 516.812.0208
Ali Carbone,Marketing and Communications Coordinator: acarbone(at)drinkarizona(dot)com 516.812.0346