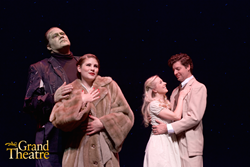 Salt Lake City, Utah (PRWEB) October 06, 2015
Salt Lake Community College's Grand Theatre will host productions of "Young Frankenstein" Oct. 8-30, with evening performances at 7:30 p.m., Thursday through Saturday, and Saturday-only matinee performances at 2:00 p.m.
Grandson of the infamous Victor Frankenstein, Frederick Frankenstein (pronounced "Fronk-en-steen") inherits his family's estate in Transylvania. With the help of a hunchbacked side-kick, Igor (pronounced "Eye-gore"), and a leggy lab assistant, Inga (pronounced normally), Frederick finds himself in the mad scientist shoes of his ancestors. "It's alive!" he exclaims as he brings to life a creature to rival his grandfather's. Eventually, of course, the monster escapes and hilarity continuously abounds.
Tickets start at $14. Discounted tickets are available for seniors, students, veterans, teachers, and other groups. For more information or to purchase tickets, call 801-957-3322 or visit http://www.the-grand.org.
The Grand Theatre is a 1,000-seat venue located at Salt Lake Community College's historic South City Campus, home of the innovative, state-of-the-industry Center for Arts and Media at 1575 South State Street in Salt Lake City. The Grand was chosen by Sundance Institute to be a screening venue during the 2015 Film Festival. The theatre dates back to the 1930s when it was part of South High School, which SLCC purchased in 1989, a year after the high school closed. The Grand began offering productions that year and has, with great care and expense, retained its Depression-era charm and attraction while also incorporating the latest technology in the performing arts. Every season, the Grand is host to award-winning theatre and dance productions and concerts that attract arts enthusiasts from all along the Wasatch Front.