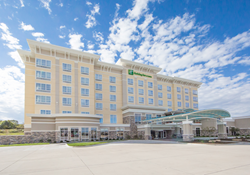 "Our team is determined to exceed our guest's expectations on all levels. We push the envelope in design and amenities, and this property is not like the typical Holiday Inn."
Davenport, Iowa (PRWEB) October 08, 2015
The Holiday Inn and Suites in Davenport, Iowa recently received the IHG (InterContinental Hotels Group) 2015 New Development Design Award. This award is given only to hotels that merit special recognition for successfully implementing a new design program during the past year. The hotel was recognized during the 2015 IHG Americas Owners Conference in San Francisco last week. The recipients of this award are judged to have improved and updated their properties.
The hotel offers 104 guest rooms, and nearly 5,300 square feet of meeting and pre-function space for special events. Other amenities include the accompanying J-Bar, a new restaurant brand that was launched at the same time the hotel was opened.
"We're honored to win this award from IHG; it's a testament to the vision and hard work of our in-house designers, architects and construction team," said Mike Whalen, President and CEO of Heart of America Group, which designed, built, owns and manages the hotel and restaurant. Kim Whalen, Executive Vice President, led the design team for this project. "Our team is determined to exceed our guest's expectations on all levels. We push the envelope in design and amenities, and this property is not like the typical Holiday Inn."
At the IHG Americas Owners Conference, Heart of America won two additional awards for its Holiday Inn and Suites in East Peoria, Ill.: the 2015 IHG Newcomer Award and the 2015 IHG New Development Design Award. Headquartered in Moline, Ill., Heart of America Group's property portfolio consists of over 2 million square feet of real estate including 32 owned and operated restaurants and hotels, an office building, and 1.4 million square feet of retail. Located in ten metropolitan areas across six Midwestern states, the brands developed and operated by Heart of America include Johnny's Italian Steakhouse, The Machine Shed Restaurant, Wildwood Lodge, Thunder Bay Restaurant, The J-Bar, and Hotel Renovo. In addition, the hospitality group is a franchisee with four different hotel groups: Marriott, Holiday Inn/IHG, Hilton and Choice Hotels.