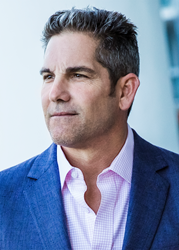 I brought it to Udemy to broaden the reach and help 8 million more salespeople.
Miami Beach, FL (PRWEB) October 08, 2015
Grant Cardone, founder and CEO of Grant Cardone Sales Training, launched his top-rated Fundamentals of Selling sales training course at a significant discount on Udemy, an online marketplace for learning that boasts more than 8 million students worldwide.
The Fundamentals of Selling, a groundbreaking 58-lecture curriculum, has been completed by tens of thousands of salespeople, managers and business owners over the years through Cardone University and Cardone-On Demand. This course, which normally costs $1400, is being offered on Udemy for only $99 to introduce a broad new audience to the wealth of wisdom on sales, motivation and business discipline from Grant Cardone.
These lectures, which combine to over 5.5 hours of content, lay out the foundation of what it takes to succeed in selling any product or service in any industry. It's a major claim but has been proven consistently over the years to demystify what selling really is and how in fact every person on the planet is a salesperson, regardless of their job title or profession.
Grant Cardone stated, "I have personally received comments and questions from thousands of people from my Fundamentals of Selling course on Cardone University and Cardone On-Demand." He continued on that, "Others, who considered themselves veterans in sales, suggested this course allowed them to see where they had been missing things in their career that had been preventing them from reaching their business goals. So I brought it to Udemy to broaden the reach and help 8 million more salespeople."
"Our marketplace thrives when experts like Grant share their knowledge and enthusiasm with our millions of students," said Udemy's VP of Content, Gregory Boutte "It's a win for our instructors, who can connect with a virtually limitless, international audience, and it's a win for students, who get access to the best minds in their fields."
Fundamentals of Selling is a ten-section course focusing on building skills and techniques needed to advance in the high-demand career of sales. Each Fundamental of Selling section is broken down into actionable lectures that are ideal for someone training on the go or buckling down for hours of learning.
The Fundamentals of Selling course covers a range of topics, including:

Why Salespeople Drive Entire Economies
The First Agreement Challenge
The Only Reason You Won't Like Selling
The Lunch Opportunity
Impose On Them Or Help Them?
The Four Degrees of Action
People Are Senior to Process
Salespeople Stop Sales, Customers Don't
Here is what some people have said about this top-rated course:
"This is a high-quality sales training course and the value is outstanding! Grant Cardone is one of the best sales trainers out there! I would highly recommend this course!" – Mike Wellings (5-stars)
"Everything in this course can be applied to Online Business and Online Marketing. I know, I've helped over 800 businesses go online, and I can assure you that if you do not put these lessons into practice in your online business you will most likely join the ranks of millions of online failures." – Dallas Bowman (5-stars)
Visit the Udemy website to learn more about this course and enroll today.
###
About Grant Cardone:
Grant Cardone is a New York Times bestselling author of four books since the 2008 economic collapse, international speaker, business innovator and leading social media personality in the world today. Cardone owns multiple companies; Cardone Training Inc., Cardone Group (a software and technology business), GrantCardoneTV, and Cardone Acquisitions, a national real estate company with over $500m in real estate transactions. Cardone is the world's top sales training expert with the most viewed online sales training site in the world today with over 2000 segments of content used by companies like Ashley, Aflac, AllState, Google, MIT, InsideSales, Udemy, Chrysler, Toyota, MorganStanley, TMobile, ATT, Sprint, FranTarkenton Co's, and thousands more. You can follow Cardone on Twitter @GrantCardone or visit http://www.GrantCardone.com
About Udemy:
Udemy is an online education marketplace with over 8 million students. Our course content and instructor community are constantly growing, with more than 32,000 courses taught by 18,000 instructors. Students have the ability to learn as they go and succeed on their own terms, while instructors have a way to share their knowledge with the world. For companies, Udemy offers a subscription to our best business courses as well as an easy-to-use platform to create proprietary courses. Founded in 2010, Udemy is privately owned and funded by the Stripes Group, Norwest Venture Partners, Insight Venture Partners, Lightbank, MHS Capital, and Learn Capital, among others. Udemy is headquartered in San Francisco and has offices in Dublin, Ireland, and Ankara, Turkey.