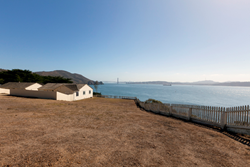 "Quarters 17 will give the occupants the experience of what it was like to be a member of the Coast Guard Life Saving Station a half half-century ago."
Sausalito, CA (PRWEB) October 07, 2015
Gaetani Real Estate, a San Francisco-based property management firm, has announced the completed renovation of an historical, 3-bedroom, 2-bath house situated at the western edge of the North American continent, in a quiet residential enclave that is part of the Golden Gate National Recreation Area (GGNRA). The home is one of three fully-detached houses that were once occupied by the keepers of the Point Bonita Life Saving Station. The property is located at 37º49'17.36"N 122º31'39.71" W, just steps away from the ocean and with unbelievable unobstructed views of the Golden Gate Bridge.
"This is the most dramatic of all the rental properties in our portfolio," noted Marcus Gaetani, a third-generation principal with the firm. "For someone looking to add a unique, memorable living situation to their life experience, the availability of this home is an unprecedented opportunity."
Built in 1964, the three homes at Point Bonita represent the last phase of U.S. Coast Guard development at the site before it became an unstaffed light station in 1980. They are listed as contributing structures within the Point Bonita Historic District. Currently, two of the homes are occupied by Park Service staff- a Law Enforcement Ranger and a member of the Maintenance Division.
"We're very excited to be able to make this home available to the public as a rental unit," commented Melissa Bleier, an official with the National Park Service. "Quarters 17 is just one of the many treasures GGNRA has to offer, but is the only one that will give the occupants the experience of what it was like to be a member of the Coast Guard Life Saving Station a half half-century ago."
Quarters 17 has been restored to top-notch condition by construction firm Pioneer Builders under the guidance of Knapp Architects, both based in San Francisco. Gaetani Real Estate has a Master Lease with the National Park Service to manage this historic residence, as well as units at nearby Fort Barry and San Francisco's historic Fort Mason.