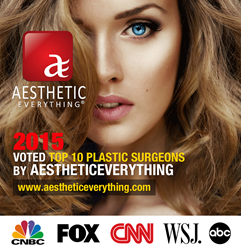 (PRWEB) October 06, 2015
Dr. Paul Vitenas, founder of Vitenas Cosmetic Surgery in Houston and recognized as one of Texas' top plastic surgeons, has been included in this year's edition of the Top 10 Plastic Surgeons Middle America Region for 2015. This distinct honor was bestowed upon Dr. Vitenas by Aesthetic Everything, which has become known as the first and only social network for professionals in the aesthetic industry.
Dr. Vitenas was honored to be named among this prestigious list of plastic surgeons. As part of this honor, Dr. Vitenas is featured on Aesthetic Everything's website at http://aestheticeverything.com/member-profile-paul-vitenas-jr/. This page contains a comprehensive summary of Dr. Vitenas' background, education and achievements as a cosmetic surgeon. The website also features his certifications and awards, as well as a video with Dr. Vitenas explaining the best ways for patients to choose their breast implant size. Additionally, the profile contains photos of Vitenas Cosmetic Surgery's beautiful facility located at 4208 Richmond Avenue in Suite 200 in Houston.
The Aesthetic Everything award highlights Dr. Vitenas' strong dedication to his patients. He believes every patient is unique and reflects that belief by taking time to sit with each patient during consultation and works to better understand their desires, background, needs and expectations. Dr. Vitenas said in that beautiful natural results are only achieved when mutual trust and understanding exists between the surgeon and the patient.
"At Vitenas Cosmetic Surgery, we firmly believe in the relentless pursuit of perfection," Dr. Vitenas said in the Aesthetic Everything profile. "There is never a substitute for achieving your personal best; we incorporate this theory into everything we do."
The Aesthetic Everything honor is just the latest in a long list of awards that Dr. Vitenas has achieved during his career. In addition to this latest honor, Dr. Vitenas has been given such awards as The RealSelf 100 Award – 2013, Health Tap's Top Plastic Surgeon in Houston, Vitals.com Patients Choice Award for 2010 and 2011, Houston's Top Doctor by H Texas Magazine for seven years and Best Cosmetic Surgeon 2010 by The Pearland Journal.
Aesthetic Everything was designed to be a one-stop shop where aesthetic professionals can obtain the tools they need for their practices. The website offers such information as media campaigns, medical supplies, classified ads, featured memberships and a number of other services commonly in demand by aesthetic professionals. The network contains such groups as plastic surgeons, dermatologists, spas, patients, skin care companies, laser companies, makeup artists and medical societies. The full list of award winners can be found at http://aestheticeverything.com/top-10-plastic-surgeons-middle-america-region-2015/.
With over 25 years of experience, Dr. Vitenas is often honored as one the top cosmetic surgeons not just in Texas, but all over the nation. Board certified by the American Board of Plastic Surgery, he is a graduate of Tulane University Medical Center located in New Orleans. He then went to Necker Hospital in Paris where he completed a Craniofacial and Cosmetic Surgery Fellowship with Paul Tessier, world renowned as the modern father of craniofacial surgery, as well as, second Fellowship in Paris, France. Dr. Vitenas' national reputation comes from his personalized and surgical style with patients that are often duplicated by his peers. More information about Dr. Vitenas can be found at http://www.drvitenas.com.