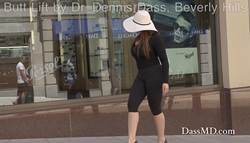 Women with all body types are interested in the Brazilian Butt Lift for a more curvaceous body
Beverly Hills, CA (PRWEB) October 07, 2015
A video shot along Beverly Hills' famed Rodeo Drive is driving increased public awareness and patient inquiries, says Beverly Hills plastic surgeon Dr. Dennis Dass. "With pop culture driving demand for buttock augmentation, we decided to feature an actual patient in our video," says Dr. Dass. "The response has been remarkable, with a 33% increase in new inquiries and many new patients coming to the practice after seeing how our patient looks." The video, which has gained over two thousand views to date, shows one Dr. Dennis Dass' Brazilian Butt Lift patients walking among the shops in Beverly Hills, which may be seen on the You Tube channel of Dr. Dass by visiting this link: https://youtu.be/LDZOXX5rDDs
Buttock augmentation, especially the "Brazilian Butt Lift" is now more popular than breast implants, according to The American Society of Plastic Surgeons which reports that buttock augmentation procedures in their various forms are up by double-digit figures this year. "We're seeing women of all sizes and body types who wish want to improve their body contours," says Dr. Dass.
"The Brazilian Butt Lift is done using fat transfer, a procedure in which unwanted fat is taken from other body areas and injected into the buttocks to create a fuller and more shapely look. This process provides the added benefit of fat reduction and body contouring in those areas from which the fat is taken," says Dr. Dass. "Celebrities and pop culture are driving the demand for more ample buttocks. I use an 'all over' approach which reduces any bra roll, slims and contours the waist and in some cases, slims the upper arms. This technique gives dramatic results as we bring the whole body in proportion while adding projection and volume to the butt."
For more information on the Brazilian Butt Lift by Dr. Dennis Dass in Beverly Hills, CA visit http://www.DassMD.com and call 310-878-4800.