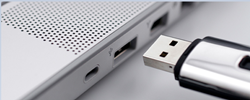 New York, New York (PRWEB) October 07, 2015
Zecurion, a leading developer of data loss prevention solutions, announced that it has been granted the patent for its unique preventive shadow copy and content analysis method by the US Patent and Trademark Office.
Removable media devices enable users to extract significant amounts of sensitive data from a data source. Moving data using thumb drives or other removable media devices has become a common practice, even among information technology and security specialists. Such data transfers go largely undetected. Once sensitive data has moved to a removable storage device it is easily removed from the enterprise and compromised. Thus companies, governments and other organizations risk losing the data or exposing it to unauthorized recipients. Further risks include violations of laws and regulations requiring audit trails or encryption when moving sensitive data.
Towards this, while encryption provides a viable solution, it has many drawbacks too. Encrypting large amounts of data can be time consuming and encryption policies are difficult to enforce. Without user diligence and willingness to comply with encryption requirements, encryption is a relatively weak security mechanism for removable media.
Zecurion's preventive shadow copy and content analysis method solves the problem by providing a system that would automatically enforce a removable media security policy without relying on the user to take action such as encrypting data to be transferred. The method guarantees that a file will be written to the removable media only after it has been checked by control software to assure its compliance with security policies.
Alexey Raevsky, Zecurion's CEO, said "We are very excited to be granted the patent for our unique preventive shadow copy and content analysis method. Our invention addresses the challenge that corporates face in enforcing removable media security policy. In addition, the method is completely transparent to users, enabling information security managers to achieve better success with implementation policies, while also freeing up resources to focus on other threats corporates may be facing."
For more information, please call +1 866 581-0999.
About Zecurion
Zecurion is a global technology innovator of data loss prevention solutions that reduce risk of data breaches by addressing internal threats. Started in 2001, Zecurion has successfully developed and implemented security solutions providing proven and reliable protection against leaks for more than 10,000 companies around the world. The company's solutions provide comprehensive protection against leakage of information throughout the course of its lifecycle – from creation, to recording and archiving, and deletion. In 2013, Zecurion was included in the Magic Quadrant for Content-Aware Data Loss Prevention by Gartner. It has also received recognition through the prestigious Golden Bridge Awards and Network Products Guide, as well as consistently ranked highest among developers of DLP Analytics by CNews.
Zecurion and the Zecurion logo are trademarks of Zecurion.