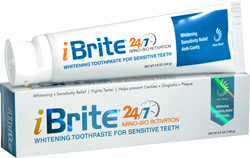 Most Advanced Nano-Bio Activation Whitening Toothpaste!
Brea, CA (PRWEB) October 07, 2015
Whiter Image a leading distributor of dental whitening products is selling a new toothpaste under the name iBrite 24/7 Whitening Toothpaste. The toothpaste is manufactured in the U.S. by Pac-Dent International and distributed by Whiter Image. This new toothpaste fits well with Whiter Image's versatile line of teeth whitening products. A dedication to quality and service has earned Whiter Image a reputation as a leading seller of teeth whitening products.
iBrite 24/7 Whitening Toothpaste is specially formulated to remove stains and whiten teeth without increased sensitivity. The formula includes the clinically-proven desensitizing agent Potassium Nitrate to provide long-lasting protection from tooth pain; while the nano-grade whitening agents easily access hard-to-reach interproximal surfaces. As part of a regular tooth whitening regimen, iBrite 24/7 Whitening Toothpaste will make a noticeable improvement in the discomfort and sensitivity you experience from tooth whitening.
PRODUCT FEATURES

Exclusive Bio Activated micro cleansing formula; gentle foaming action lifts away tooth stains
Formulated with fluoride to prevent cavities
Nano grade whitening agents easily access hard to reach interproximal surfaces
Helps prevent gingivitis and plaque while fighting tarter buildup
Mint flavor to freshen breath
Gluten free, sugar free
"Whiter Image is dedicated to providing simple product solutions that produce outstanding results," says Daisy Nign, Brand Manager at Whiter Image, "This new whitening toothpaste reinforces our goal of offering our customers top quality dental products"
iBrite 24/7 Whitening Toothpaste is available in a full size 140g and travel 25g tube.
For more information about White Image products and to place an order call 1-877-944-8330 or visit them at whiterimage.com