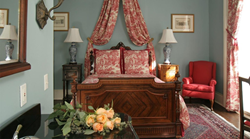 The only San Antonio bed and breakfasts to have received the prestigious AAA® 4 Diamond rating...
San Antonio, Texas (PRWEB) October 08, 2015
Noble Inns in San Antonio was featured as one of "20 great B&Bs for a holiday -- or any – weekend" on USAToday.com®. The article highlighted historic bed and breakfasts that provide an exceptional experience and have stood the test of time having been listed with BedandBreakfast.com® since website first launched. The San Antonio bed and breakfast is known for their above-and-beyond guest services and outstanding location along Riverwalk in the heart of the hot Southtown dining scene.
This summer marked BedandBreakfast.com's 20th anniversary; impressive considering only a small number of Internet companies that started in 1995 are still in business. In commemoration of this milestone BedandBreakfast.com featured Noble Inns as one of 20 iconic properties that have been listed on their website and demonstrated excellence in hospitality for 20 or more years.
"It's truly a testament to the excellent service and hospitality we offer our guests that we can be here 20 years later celebrating this anniversary with BedandBreakfast.com," says Don Noble, owner of Noble Inns. "We look forward to introducing many more guests to our award-winning bed and breakfast experience for years to come."
Noble Inns is also a member of BedandBreakfast.com's Diamond Collection™, an exclusive group of professionally inspected and guest-reviewed luxury inns.
"BedandBreakfast.com was among the first lodging companies to get on the Internet, providing a brand new way for its B&Bs to advertise and promote their businesses, and a one-stop shop for travelers looking for B&Bs," says Matt Laessig, general manager of BedandBreakfast.com. "Once considered an 'alternative' lodging experience, bed and breakfasts are now mainstream and popular among travelers who want special travel experiences."
BedandBreakfast.com is now the most comprehensive global site for finding bed and breakfast properties around the world, with more than 11,000 properties worldwide representing nearly 75,000 rooms.
About Noble Inns:
Noble Inns is a collection of three distinctive bed and breakfast properties in the downtown King William Historic District along the famous San Antonio Riverwalk: The Oge House, Aaron Pancoast Carriage House, and the Jackson House. Built in 1857, 1896 and 1894 respectively, these designated historic landmarks have been impeccably restored to provide guests a romantic stay in authentic period surroundings offering all the modern amenities discerning travelers expect. They are the only San Antonio bed and breakfasts to have received the prestigious AAA® 4 Diamond rating and belong to Select Registry®, a premier group of lodging establishments that have passed a rigorous inspection to provide travelers with a guarantee of exceptional quality and service. The Noble Inns properties offer an ideal location for both leisure and business travelers being only a short walk to the Alamo, Convention Center, Riverwalk, and other downtown sites and attractions.