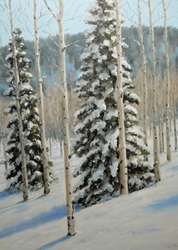 Winter Wonderland spotlights work by our artists who find inspiration in the stillness, subtle beauty and activity of the year's coolest and darkest season. - Shanan Campbell Wells
Durango, CO (PRWEB) October 08, 2015
Winter Wonderland Group Show opens at Sorrel Sky Gallery in downtown Durango on Thursday, January 7 with a reception from 5:00 to 7:00 p.m. The gallery will be filled with portrayals of the western landscape and its inhabitants offering reflection upon the beauty and quintessential aspects of wintertime. Many of the gallery's most prominent painters and jewelry artists will be represented including Stephen Day, Cynthia DeBolt, Carrie Fell, Edward Aldrich, Cody Sanderson and Ben Nighthorse, among others.
Cynthia DeBolt's unique semi-abstract oil paintings of the land offer a view of winter's stillness and quietude. Painter Stephen Day's shimmering landscapes in oil capture the mesmerizing quality of light found during the darkest season of the year. Edward Aldrich's sophisticated portrayals of animals reach beyond the realistic rendering of wildlife, conveying the inherent nature of animals in their winter habitat. Carrie Fell's signature style and warm, vibrant palette energize her paintings of western winter scenes reminding us of the power of this season.
Award-winning Native American jewelry artists Ben Nighthorse and Cody Sanderson each use symbolic representations of snow in unique ways in his highly sought after jewelry.
Sorrel Sky Gallery owner, Shanan Campbell Wells, offered, "Winter Wonderland spotlights work by our artists who find inspiration in the stillness, subtle beauty and activity of the year's coolest and darkest season."
Sorrel Sky Gallery's fresh approach to Western art presents a select collection of contemporary and traditional fine art and jewelry for the discerning collector. Sorrel Sky Gallery was founded in Durango, CO in 2002 and opened its Santa Fe, NM location in 2014. It represents over 75 painters, sculptors and jewelers including bronze artist Star Liana York, painter Billy Schenck, and Ben Nighthorse, among others.