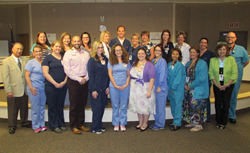 This is what I was meant to do. The opportunity to provide care to my patients is a privilege that I cherish.
SURPRISE, ARIZ. (PRWEB) October 07, 2015
Yvonne Downs, Tracy Laidlaw and Jodie Margolies may never achieve the name recognition of nursing trailblazers like Dorthea Dix, Clara Barton and Florence Nightingale, but in their own way, they too are blazing new trails in the nursing profession.
The trio of employees from Banner Del E. Webb Medical Center (BDWMC) each recently received a $2,000 scholarship from Sun Health Foundation to further their nursing education.
"I can't explain the feeling. Nursing has been my lifelong dream," Margolies said at a Sept. 28 reception honoring the 22 scholarship recipients and three nurses who received funds to attend continuing-education conferences.
Margolies worked for six years as a health unit coordinator for Women and Infant Services (WIS) during which time she began pursuing a nursing degree from Grand Canyon University. She recently finished her coursework and is studying for her nursing boards. From there, she will be blazing new trails as a postpartum nurse on the WIS floor.
Tracy Laidlaw ran a successful public relations agency in Silicon Valley but "it didn't feed my heart," she said. "Something was always missing." Nursing filled the void. Today she is a certified nursing assistant, a patient care technician and a health unit coordinator on the Observation unit at BDWMC. The scholarship will help her earn her associate's degree in nursing and then her bachelor's in nursing through the Phoenix College/Northern Arizona University concurrent enrollment program.
"This is what I was meant to do," Laidlaw says. "The opportunity to provide care to my patients is a privilege that I cherish."
Yvonne Downs shares that same passion. The Labor and Delivery registered nurse is going to school to earn a master's in Nurse Midwifery from Frontier Nursing University in Kentucky. She plans to eventually get a doctor of nursing practice degree. "Making a positive difference in my patient's lives has inspired me to go after my dream of becoming a nurse-midwife," Downs said.
Sun Health Foundation (SHF) Board of Trustees Chairman Jerry Solomon and Development Director Bonnie Olsen hosted the reception and applauded each recipient, presenting them with a scholarship certificate. Leaders from BDWMC were on hand to show their support.
"When I meet people who have been treated at Banner Del E. Webb, they almost always talk about the great care they received. Nine times out of 10, they are talking about the nurses," Solomon said.
Debbie Flores, CEO of Banner Del E. Webb, also praised the recipients. "Educational development and professional growth are so important not only for you, but for all of us; your co-workers, our physicians, our patients and their families."
Sun Health Foundation launched the nursing scholarship program for Banner Del E. Webb Medical Center and Banner Boswell Medical Center earlier this year. Scholarships will be awarded annually to qualified employees who are currently enrolled in or newly accepted into an accredited nursing program. A SHF Scholarship Committee reviews the applications and decides on the awardees. Thirty employees from Banner Boswell received nursing scholarships in August.
SHF donors have funded nursing school scholarships since 1980 when Mesa Community College (MCC) established a nursing education program on the Boswell Memorial Hospital campus. The MCC program closed in 2013 and was replaced by a Grand Canyon University satellite nursing program across the street from Banner Boswell. SHF also provides scholarship opportunities to GCU nursing students.
About Sun Health Foundation
For nearly 50 years, Sun Health Foundation donors have supported superior health care in the West Valley. The foundation is a philanthropic partner to the Banner Sun Health Research Institute, Banner Boswell Medical Center and Banner Del E. Webb Medical Center, as well as community wellness programs and senior living services provided by Sun Health. Learn more at http://www.sunhealthfoundation.org.