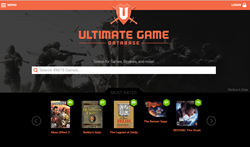 Change The Industry. Champion Indie Games. Support Girl Gaming. Authentic Opinions. The Largest Game Database.
Nashville, TN (PRWEB) October 09, 2015
UGDB is forward-thinking site for gamers looking to those growing markets and under-reported issues in the industry. The first of these spaces is indie games. Whether a game has just been published during a formal game jam or is the first title for a fledgling developer, the journalists at UGDB find it, evaluate it, and share their opinions with readers. A successful Kickstarter would allow them to expand their coverage of indie games significantly.
UGDB also recognizes the market for female gamers has been underserved in the past (despite the fact that half of all gamers are women), and the industry doesn't always reflect those figures in its hiring practices or representation in-game. UGDB desires to be a safe, inviting space for all gamers, giving a voice to those who have been traditionally marginalized. The talented female journalists of UGDB are dedicated to covering those issues that are most important to them, pushing the conversation forward.
The writers at UGDB do this because they know how important games are, and how just because something is a game doesn't mean it can't also be art, filled with beauty and meaning. Their writing not only addresses these concepts, but their in-house comic artist creates funny and heart-felt stories around these issues.
So how do gamers discover new studios that don't have the ability to throw marketing money behind their ideas? Where do gamers find information on the current state of the industry? There are many sites that offer this type of news, to varying degrees, but UGDB wants to be the place where it can quickly catch up on indie games and discover what under-the-radar games are coming up.
UGDB currently has a searchable database of over 49,000 games, which makes them the leading database of video games. Users are able to search for, rate, review, and show off games, earning achievements for their effort. The goal of the site is to foster this exchange of knowledge, allowing users to find reliable information they can trust, whether that's a game's release information, popular and critical reviews, or the latest trailer. UGDB has it all.
UGDB strives to be an exceptional platform for delivering news about indie games and developers, provide professional reviews, and offer thoughtful editorials. UGDB is a space for gamers to voice their opinions and help inform others, not just through the news produced by its staff, but by the input of users who utilize the site to help make informed decisions.
Find out more about how UGDB is [Changing the Industry on Kickstarter.