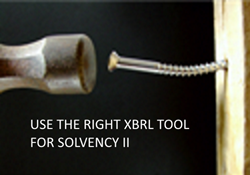 The UBPartner software came highly recommended as their underlying technology is used by major software vendors and by several financial services regulators in Europe.
Paris, France (PRWEB UK) 12 October 2015
"We were wondering how to address the new XBRL reporting requirements for insurance companies in Europe and were looking for something that was easy to deploy, would deliver 100% compliant filings, but that was also not too expensive. One of our customers had already found a solution that fitted their needs, so we researched it further," stated Frank Boukobza, Partner at French insurance specialist Actuelia. "The UBPartner software came highly recommended as their underlying technology is used by major software vendors and by several financial services regulators in Europe. Most importantly for us, however, is that UBPartner had built a set of tools, the XBRL Toolkit, specifically to meet the requirements of the new insurance reporting framework, Solvency II."
Actuelia (http://www.actuelia.fr) is a consulting firm specializing in 'Actuarial Science', offering insurance firms access to a team of experienced actuarial consultants. The consultants were already providing advice and training on the adoption of Solvency II, but saw that many customers were looking for simple but effective tools to help them complete the submission process.
The Right Tool for XBRL Reporting
"We quickly realised that the pre-mapped Excel templates provide by the Toolkit removed the need to understand complex XBRL syntax. Actuelia and its customers could focus on collecting the right data and then simply load it into the template, run the XBRL Converter Tool and we would have a 100% compliant XBRL document. Summary and detailed validation reports alert the user to any errors in the data, so there was no need for expensive training or integrated systems," continued Franck Boukobza.
"With Actuelia's help we have implemented the XBRL Toolkit and delivered the required reports to Banque de France. Everything went smoothly and efficiently," said Laurent Borderie, Directeur Général (CEO) of Union Mutuelle de Réassurance UMR. "We received excellent support from Actuelia and technical support from UBPartner."
Making it Easy to Use
"Firms want a tool that fits with their own internal reporting processes and doesn't require extensive knowledge of XBRL to generate their Solvency II reports," said Laetitia Boublil, Head of Consulting at UBPartner (http://www.ubpartner.com) "We used all of our experience in implementing XBRL systems for national banking supervisors and our work with major financial application vendors, to design a set of tools that are easy to integrate, simple to use, but also powerful and use familiar interfaces. Our advanced XBRL processing engine ensures that our tools deliver 100% correct documents every time. Actuelia is a trusted advisor to insurance firms and they have the skills to deliver our tools in the way that insurance firms want and they can provide a range of additional services that make the most out of our XBRL technology."
Actuelia and UBPartner will work together to deliver a range of additional services to insurance firms, including a simple, low-cost SAAS solution, training and implementation assistance.
XBRL (eXtensible Business Reporting Language)
XBRL is fast becoming the standard for financial information exchange and reporting demonstrated by the XBRL programs being driven by the European Banking Authority (EBA), European Insurance and Occupational Pensions Authority (EIOPA) and numerous government agencies. The XBRL standard is maintained by XBRL International: http://www.xbrl.org
About Actuelia
Actuelia has built up a vast amount of industry-specific knowledge and experiences within the insurance sector. Many of its employees worked within the industry before joining Actuelia and therefore they speak right language when they helping to implement new solutions.
Actuelia was founded on the simple idea that technology could represent an obstacle for development, if it was not understood and managed by leaders. Thus, besides the traditional qualities of actuarial consultants, our team put as much energy on the exchange, long-term collaboration and closeness with our customers. These values form the DNA of our firm.
For further information, visit http://www.actuelia.fr
About UBPartner
UBPartner is a privately owned company with headquarters in Paris and offices in London. It provides a full suite of solutions and services that enable companies and regulatory agencies to realize the benefits of XBRL – from the underlying processing engine, to desktop development and deployment tools, all the way to packaged solutions for regulators and government agencies.
UBPartner technology and tools are used today in many advanced and demanding XBRL environments such as market regulators, government agencies and major corporations in France, Belgium, UK, Ireland, Poland, Norway, and Luxembourg and by leading software vendors, such as Oracle, SAP and Infor.
For further information, visit http://www.ubpartner.com