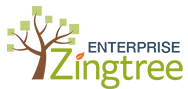 We understand the serious concerns our clients have regarding data security. For this reason, we are excited to offer a secure self-hosted solution for all of our customers.
SAN FRANCISCO, CALIFORNIA (PRWEB) October 08, 2015
Zingtree, the pioneer in developing tools to build interactive decision trees, has announced today that they have introduced a new, self-hosted, on-premise version of their already popular services for Enterprise clients. Current Zingtree customer use cases range from agent scripting for international call centers, to deploying interactive troubleshooters for technical products, to Fortune 500 support teams.
Zingtree Enterprise is a solution developed in response to the needs of larger organizations, especially Legal and Security Teams, who may find it difficult to gain approval for SaaS systems. Now, Zingtree Enterprise allows clients the peace of mind that their decision trees are secure and that the data's integrity is intact with on-premise hosting, and by giving explicit deployment and use-case permission to corporate leadership.
"We understand the serious concerns our clients have regarding data security; and that hosting company data off-site can often trigger a negative response," said Bill Dettering, Zingtree Founder and CEO. "For these reasons, we are excited to offer a secure self-hosted solution available for all of our customers," Dettering continued.
The new Enterprise version boasts the same robust and intelligent technology as Zingtree's original decision-tree-building tools. However, it can be installed on any server with industry standard PHP and MySQL, and it includes a full source code license. The new Enterprise product includes the following additional features:

Secure, on-site customer data storage
Data that remains separate from the other company's data in case of legal issues
Full source code that allows security specialists to inspect the code for any hacking loopholes that may arise
Full modification power allowing design and engineer teams flexibility in terms of coding and designing decision trees and authoring access to company specifications
Consulting, support, and ongoing maintenance
Zingtree Enterprise is available now from zingtree.com. A fully functional demo site is also available for evaluating the authoring and administrative tools.
About Zingtree
Zingtree was developed to empower companies to give their customers a quick, efficient and intelligent way of getting answers quickly. By providing an easy, yet powerful way for companies to create, refine and embed interactive decision trees and troubleshooters, Zingtree's services are at the heart of any company-to-consumer interaction. Originally designed to streamline customer support funnels, Zingtree's clients also include product teams seeking to gain deeper insight into the user behavior, sales and marketing teams looking to qualify leads, call centers, and more. Zingtree is privately held and headquartered outside of San Francisco, California.