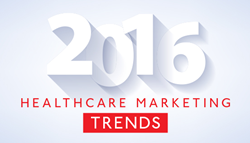 In 2016 speed and personalized content will drive everything.
Troy, NY (PRWEB) October 08, 2015
Technology and healthcare marketing are evolving and healthcare providers will need to customize content and improve patient experiences to remain competitive. That's the key take away from healthcare marketing agency, Smith & Jones,' new white paper titled, "2016 Healthcare Marketing Trends."
Available as a free download from the agency's website, this new white paper helps healthcare marketers stay ahead of the curve by detailing popular trends such as online appointment scheduling, user experience, more relevant medical content and mini-healthcare campaigns.
"The year 2015 was all about the evolution of content marketing," CEO Mark Shipley said. "Content is still dominating the market. However, in 2016 speed and personalized content will drive everything."
The white paper highlights marketing strategies that reflect consumers need for instant gratification, an expectation that requires hospitals to be everywhere at all times. Along with convenience, consumers also want to feel healthcare content is directed toward him or her.
Other trends the white paper discusses include:

TL;DR (too long, didn't read) and the rise of short content
Return on community
Fringe social networks
Marketing in micro-moments
Download the free white paper today at http://www.smithandjones.com.
About Smith & Jones
Smith & Jones is a healthcare marketing agency based in Troy, NY, that specializes in hospital systems and large physicians practices.  Learn more at http://www.smithandjones.com.