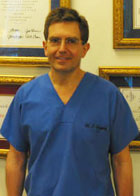 Bethlehem, PA (PRWEB) October 08, 2015
Dr. Joseph Gaspari invites patients with bleeding gums and other gum disease symptoms to celebrate Dental Hygiene Month by undergoing gum disease treatment in Bethlehem, PA, at his practice. With the help of the gentle and accurate LANAP® protocol, Dr. Gaspari is able to pinpoint diseased gum tissue for the highest degree of treatment accuracy. The PerioLase® MVP-7™ laser is an FDA-cleared treatment.
October is celebrated as Dental Hygiene Month, and Dr. Gaspari honors the occasion by providing laser-based gum disease treatment in Bethlehem, PA. Patients who have recently developed bleeding gums or other recognizable symptoms of gum disease are invited to inquire about treatment with the LANAP® protocol, and whether this procedure may be the right course of action for their specific needs. Although the initial symptoms of gum disease may seem very minor and may include slight discomfort or frequent bleeding of the gum tissue, more serious and painful symptoms may develop without prompt attention and treatment. In addition to gum recession, oral pain, and loss of teeth, advanced gum disease has also been linked to other serious conditions throughout the body, including but not limited to heart disease and diabetes.
Patients who are interested in maintaining optimal oral and physical health may benefit tremendously by seeking laser-based treatment for their gum disease symptoms. The LANAP® protocol is a preferred treatment option due to its minimally invasive nature and its effective methods to remedy periodontal disease. In addition to its minimally invasive nature, the LANAP® protocol is also known for its high degree of accuracy, with the ability to leave healthy gum tissue unharmed. Those who opt for laser-based gum disease treatments often report that they are able to resume routine activities following the procedure, experiencing minimal discomfort during their short recovery period.
Those who wish to honor Dental Hygiene Month by improving their oral health are encouraged to receive gum disease treatment in Bethlehem, PA, from Dr. Gaspari. The LANAP® protocol may reduce common symptoms of gum disease which may include bleeding gums, oral discomfort, and chronic halitosis.
About The Doctor
Gaspari Family Dental Care is a general practice offering personalized care for patients in Bethlehem, PA. Dr. Joseph Gaspari and his team are dedicated to providing comprehensive dental care through the use of innovative and modern techniques. They other services such as laser gum surgery, Chao Pinhole® Surgical Technique, sedation dentistry and dental implants. Dr. Gaspari is a Fellow with the International Congress of Oral Implantology and with the Misch International Implant Institute. He is also a member of the American Academy of Periodontology and the American Society for the Advancement of Aesthetics in Dentistry. To learn more about the services offered at Gaspari Family Dental Care, please visit their website, http://www.drgaspari.com or call (484) 552-2081 to schedule an appointment.