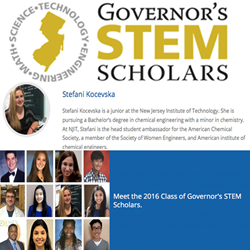 Having the opportunity to meet and work with Stefani has been a pleasure as she brings a strong level of dedication to the science based work we perform
WHITEHOUSE, New Jersey (PRWEB) October 13, 2015
The New Jersey Based STEM program is designed to enhance the educational opportunities for school age children in the areas of Science, Technology, Engineering and Mathematics. The skill sets that encompass these areas are essential for all sectors of the national economy, and the program aims to increase the number of students who pursue STEM-focused degrees at the University level. Previous Whitehouse Labs Intern and now Part Time Employee Stefani Kocevska has been named a 2016 Governor's STEM Scholar. Selection for the STEM Scholar Program is based upon an exhaustive application process for university level, STEM oriented students who have taken leadership roles in their field of choice and demonstrate a commitment to advancing the key tenets of the STEM educational program.
"Working with the local university community, Whitehouse Labs is committed to developing future employees through the use of externship and internship programs", commented Therese Abrenica, Director Technical Services for Whitehouse Labs and coordinator of Whitehouse Lab's intern programs. "Having the opportunity to meet and work with Stefani has been a pleasure, as she brings a strong level of dedication to the science-based work we perform. We offer her a big congratulations and we are extremely proud to have her on our team."
The Governor's STEM Scholars are selected and supported by the The Research & Development Council of New Jersey. This organization is dedicated to cultivating an environment that supports the advancement of research and development in New Jersey. The Council's membership includes representatives from academia, government, and industry.
Stefani Kocevska is a junior at the New Jersey Institute of Technology. She is pursuing a Bachelor's degree in chemical engineering with a minor in chemistry. At NJIT, Stefani is the head student ambassador for the American Chemical Society, a member of the Society of Women Engineers, and American Institute of Chemical Engineers. At Whitehouse Laboratories, Stefani works part time as a Junior Analyst as part of the Material Testing Laboratory Team. In this capacity, she is performing quality control testing for excipients and API's for key pharmaceutical and biotechnology clients.
Whitehouse Laboratories - The Testing Partner to Manufacturing Companies, Whitehouse Labs is an FDA regulated, DEA Licensed, ISO 17025 and ISTA certified contract service provider to the pharmaceutical, medical device, personal and consumer product industries. Whitehouse Laboratories offers analytical services for the testing of materials, finished products, container and package systems that enable our clients to meet and exceed the required quality standards established by the key regulatory agencies.