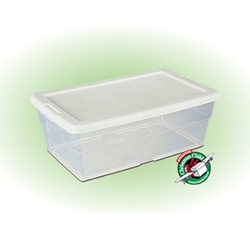 Urbana, IA (PRWEB) October 08, 2015
For the 11th year in a row, online retailer SpaceSavers.com is offering special pricing on bulk quantity sets of its Operation Christmas Child shoe boxes. The clear plastic, six-quart boxes from Sterilite are available in packs of 12, 24, 48, and 72. Larger or custom quantities are also available by calling the company at 800-880-6264.
Operation Christmas Child was created in 1993 by Samaritan's Purse®, a nondenominational Evangelical Christian organization that provides aid to people in need worldwide. The program encourages individuals to pack a shoebox with gifts intended for one child in an age category of their choice. Packed boxes are then labeled and dropped at a designated location, along with a $7 donation to cover shipping and other program costs. Boxes are delivered to selected countries and can be tracked to its destination, if the donation is made online.
SpaceSavers Product Specialist Barb Rawson says the Operation Christmas Child box program has been a rewarding one for the company. While the boxes used for Operation Christmas Child don't have to be plastic, the company saw the special bulk box program as a way to contribute to the worthwhile cause, as plastic boxes are particularly valuable in countries with limited resources.
"Unlike cardboard boxes, plastic boxes can be used after the initial gift delivery, because they can be used for storing grains or other perishables from insects and the elements, as well as carrying water or other essentials," said Rawson. "We hope the special prices on bulk quantity sets of boxes will encourage individuals to participate in the program."
National collection week for the Operation Christmas Child boxes program is slated for November 16-23th. More information, including drop-off location sites is available on the Samaritan's Purse® website.
###
About SpaceSavers.com
SpaceSavers is an e-commerce website selling a variety of storage and organizing solutions for the home, garage and office, from popular brands like IRIS USA®, Closetmaid®, Sterilite®, and Rubbermaid®. Headquartered in east central Iowa, SpaceSavers is owned and operated by Clickstop.com. Other Clickstop web property brands include USCargoControl.com, EcoFoil.com, FastenersPlus.com and JustPlasticBoxes.com. For more information, please visit SpaceSavers.com.