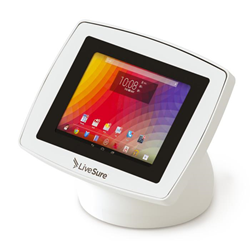 Personalizing their tablet stand or kiosk adds validation to the touch-point and is increasingly inviting to users
Waterloo, Ontario (PRWEB) October 13, 2015
Armodilo, the creators of the original tablet stand, is proud to announce they offer in-house laser etching and full colour banner printing and finishing. To help customers get the most from their tablet kiosks and stands Armodilo provides the ability to personalize their digital signage stations, with the complete process managed within the Waterloo based facility.
"Our customers understand that when they personalize their digital signage solution with their company logo, or with a banner sign, users experience a level of comfort knowing the kiosk or enclosure is directly associated with their organization. Personalizing their tablet stand or kiosk adds validation to the touch-point and is increasingly inviting to users," says Iles Guran, Founder of Armodilo Display Solutions.
Armodilo controls the entire production process internally and is able to offer customers competitive costs and quick production times, allowing them to take advantage of customizing their displays with high quality solutions and unnecessary delivery delays.
Armodilo Display Solutions is a multiple award-winning tablet display manufacturer located in Ontario, Canada. Offering a wide variety of tablet display stands and accessories for trade show, event, retail and corporate markets, Armodilo sets itself apart by creating highly refined products for discerning brands around the world.