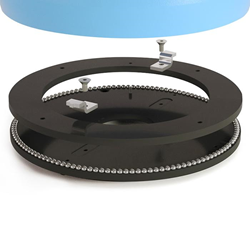 It's simple, elegant and built to last, just like everything else we make
Waterloo, Ontario (PRWEB) October 20, 2015
Armodilo Display Solutions is excited to announce the introduction of an easy-glide 360 degree rotational base option for their award winning Sphere tablet stand. The new base will allow users to rotate the display up to 360 degrees, allowing the tablet screen to be accessible from practically any position.
"The Sphere is incredibly popular and as a result it has been used in countless applications. There are applications where it was necessary for the tablet to be accessible from all sides so we tasked our engineers to come up with a solution to allow the Sphere rise to the challenge. Our engineers came back with a an easy-glide rotational design that could be mounted into the base of existing Sphere tablet stands, allowing the tablet stand and enclosure to rotate up to 360 degrees but wouldn't allow it to rotate beyond a certain point to ensure the internal power cables wouldn't get damaged. The updated design uses high quality ball bearings to rotate the Sphere on it's base, allowing a smooth rotational movement. It's simple, elegant and built to last, just like everything else we make" said Iles Guran, Founder of Armodilo Display Solutions.
Armodilo Display Solutions is a multiple award-winning tablet display manufacturer located in Ontario, Canada. Offering a wide variety of tablet display stands and accessories for trade show, event, retail and corporate markets, Armodilo sets itself apart by creating highly refined products for discerning brands around the world.