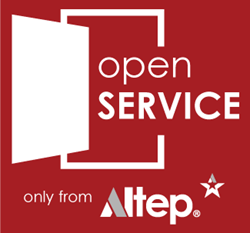 ...an integrated support dashboard could ensure that every client would have on-demand access to qualified Relativity Administrators with just a few clicks of the mouse.
Chicago, IL (PRWEB) October 08, 2015
Altep, Inc. today announced that they have been named a finalist for the Relativity Innovation Award for Best Service Provider Solution.
Working in conjunction with Milyli, a Chicago-based application development group, Altep created OpenService to enhance the efficiency of its Managed Services, allowing clients to supplement their internal resources when caseloads expand. OpenService integrates seamlessly with the Relativity workspace and allows the user to submit a request for service to Altep's Application Support team. Once a team member begins working on a request, OpenService sends automated notifications regarding its status through completion. Clients can also use the dashboard to check the balance in their support bank, purchase additional blocks of support hours, and audit past issues and support activities.
Vice President of Information Services Judy Torres recognized that as Altep's managed services offering evolved, the ability to provide integrated communications and task tracking would be critical. The idea for OpenService came to her during a conference call.
"One afternoon, the client's discovery team called to discuss a list of data management tasks. As I was listening, it occurred to me that everything would be so much more efficient if they didn't have to call us every time they needed our help," Torres recalled. "Just as our Managed Services offering allows the client to retain control of their Relativity Workspace, an integrated support dashboard could ensure that every client would have on-demand access to qualified Relativity Administrators with just a few clicks of the mouse." Shortly thereafter, Torres connected with Milyli, whose developers specialize in Relativity integrations, and OpenService was born.
kCura, developers of the e-discovery software Relativity, will recognize finalists and announce winners during a special ceremony at Relativity Fest, held October 11-14 in Chicago. This year's conference will bring nearly 1,500 users together for a three-day event featuring engaging panel discussions, hands-on labs, breakout sessions, and insights from both kCura staff and Relativity end users.
The Relativity Innovation Awards celebrate and showcase the best custom solutions created by the Relativity community. Judges selected solutions that use various application integration points to display a full use of the Relativity APIs' capabilities to streamline processes, solve complex workflow needs, and create an altogether new solution that positively impacts their business strategy.
"It's impressive how Altep took advantage of our platform to provide real-time capabilities for opening and tracking service requests," said Andrew Sieja, president and CEO of kCura. "We're excited to recognize their application OpenService in this year's Relativity Innovation Awards."
About Altep
Altep, Inc. is a Relativity Best in Service – Orange Level hosting provider, with certified Administrators, Analytics Specialists, Reviewers, Infrastructure Specialists, and Sales Pros on staff. The firm assists Fortune 100 and AM Law 100 clients with digital forensics, discovery management, and compliance risk assessment. E-Discovery services include early data assessment, ESI and traditional paper processing, and secure hosting.
Altep's data and process management experts hold a variety of certifications and credentials, including Project Management Professional, EnCase Certified Forensic Examiner, Certified Forensic Computer Examiner, Licensed Private Investigator, Certified Information Systems Security Professional, Certified Information Privacy Professional, SNIA Certified Storage Professional, and Content Analyst Advanced Analytics Certification. Find more information about Altep, Inc. at http://www.altep.com.
About kCura
Recognized as a "Leader" in Gartner's 2015 E-Discovery Magic Quadrant, kCura are the developers of the e-discovery software Relativity. Relativity has more than 120,000 active users in more than 40 countries from organizations including the U.S. Department of Justice and more than 190 of the Am Law 200. kCura helps corporations, law firms, and government agencies meet e-discovery challenges by installing Relativity on-premises and providing hosted, on-demand solutions through a global network of partners. kCura has been ranked the 175th fastest-growing technology company in North America on Deloitte's Technology Fast 500 and named one of Chicago's Top Workplaces by the Chicago Tribune. Please contact kCura at sales(at)kcura(dot)com or visit http://www.kcura.com for more information.