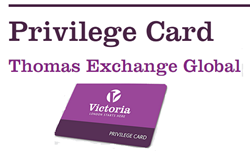 London-based currency specialist Thomas Exchange Global teamed up with Victoria Business Improvement District (VBID) to offer preferential rates to Victoria Privilege Cardholders
London, UK (PRWEB UK) 14 October 2015
London-based foreign currency specialist Thomas Exchange Global recently opened a flagship branch in Victoria Place Shopping Centre at Victoria Rail Station—thus providing travel money services to the residents and workforce in SW1 and nearby areas. Thomas Exchange Global formed the new partnership with Victoria Business Improvement District (VBID) to offer preferential exchange rates over the branch counter rates to Victoria Privilege Cardholders.
VBID is a business-led and -funded body created to support economic growth in Victoria as well as to create a vibrant destination for those who work, visit, and live in the area. According to VBID, there will be an increase of 147% in public space and 50% in capacity in Victoria Station as a result of recent investments for new office, commercial, and residential developments.
"More than 130 million people use the Victoria transport hub each year and hence, our new branch is strategically located to provide visitors, workers, and residents alike with convenient access to travel money. We are proud to team up with VBID—an establishment committed to offering a better place to live, visit and work in Victoria," stated Trevor Samuel, Senior Manager at Thomas Exchange Global.
With 11 branches located throughout London, Thomas Exchange Global is well-known among Londoners for offering the most competitive exchange rates and instant availability of over 120 different types of foreign bank notes at each of its outlets.
"Victoria transport hub has direct rail and coach links to all of London's airports. Most passengers passing through need to catch a flight and in turn, don't have time to wait 24+ hours for travel money as is standard for many travel money services. Our ability to readily meet the foreign currency needs of travellers to any part of the globe place us well ahead of the competition in SW1," concluded Trevor.
Thomas Exchange Global also offers an International Money Transfer Service in which funds can be remitted to overseas bank accounts within 1 to 2 days. With commission-free service for transfers over £10,000 (otherwise a fee of £9.90) backed by competitive exchange rates, customers are assured a superior deal and substantial savings compared to banks and money brokers.
About Thomas Exchange Global:
As dedicated foreign exchange specialists, Thomas Exchange Global has the professional expertise, in depth market knowledge, technological infrastructure, and commitment to provide an unprecedented level of service that sets the standard in the foreign exchange industry. They are specialists in all areas of foreign exchange. They provide commission free currency as well as travellers cheques.
Thomas Exchange Global branches are located at Strand, Embankment, Victoria Street, Victoria Place (Victoria Rail Station), Liverpool Street, London Wall, Hammersmith, High Street Kensington, Cannon Street, Canary Wharf, and Richmond.
For further details visit http://www.thomasexchangeglobal.co.uk, or call 020.7240.1214.