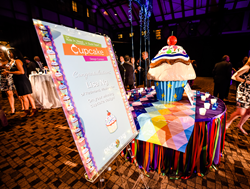 AVON, Ohio (PRWEB) October 08, 2015
The perfect cupcake must have all the right details — an adorable cupcake liner, baked-to-perfection cake, icing piled high, colorful sprinkles and a cherry on top. And, that's just the recipe that earned Lisa Ng of Redmond, Washington, the highest scores – and the $5,000 grand prize – in The Kids In Need Foundation + Duck Tape® Cupcake Design Contest.
The creative contest was hosted by Duck® brand duct tape in honor of The Kids In Need Foundation's 20th birthday. More than 125 entries were received, each showcasing a variety of cupcake-themed prints. Lisa's masterpiece – which she says was created with the help of her daughter – utilized colored pencils to depict the delectable dessert, from the chocolate cake down to the last scrumptious sprinkle.
"The judges were wowed by the originality, creativity, artistic merit and overall quality of Lisa's design," said Patti LaPorte, senior category manager, at ShurTech Brands, LLC, the company that markets the Duck® brand. "Its whimsical style would fit right in with our line of Duck Tape® prints."
The winning entry was showcased on September 30th during the Duck® brand-sponsored cupcake-themed after party at The Kids In Need Foundation's Education Celebration Gala in Minneapolis. Lisa's winning cupcake print was transformed into a larger-than-life-sized replica completely covered in Duck Tape®, creating a show stopping centerpiece for the event.
"For 20 years strong, the Kids In Need Foundation has been serving communities across the country by providing free school supplies to students most in need," said LaPorte. "We were honored to help celebrate this significant milestone."
To learn more about the contest, visit duckbrand.com/kidsinneed. For more information about Duck Tape, visit duckbrand.com.
###
DUCK TAPE® BRAND DUCT TAPE
An American original, Duck® brand is known for its quality and innovation, which now includes a vibrant assortment of hundreds of colors, designs and licenses. Duck Tape® brand duct tape is available nationally at mass merchandise, craft, hardware, home center, food, drug, office, auto and specialty retailers in colors such as gold, sage, fluorescent pink, green and orange, and designs such as Galaxy, Love Tie Dye and Puppy Potpourri.
Duck Tape®, marketed by ShurTech Brands, LLC, offers a vast array of innovative, forward-thinking solutions that help everyone – from DIYers to crafters – bring their ideas to life. The brand sets trends, inspires creativity and leads the way in crafting, DIY projects and more, giving you the tools you need to create anything you can dream. Visit duckbrand.com for additional product information. And, keep up-to-date on Duck® brand news by joining our more than 5 million fans on Facebook® (facebook.com/ducktape), following us on Twitter® (@theduckbrand), following our boards on Pinterest® (pinterest.com/theduckbrand) and watching us on YouTube® (youtube.com/theduckbrand).
THE KIDS IN NEED FOUNDATION
The Kids In Need Foundation's mission is to ensure that every child is prepared to learn and succeed in the classroom by providing free school supplies nationally to students most in need. The Kids In Need Foundation has distributed more than $700 million in school supplies since its founding, directly benefiting 4.2 million students and more than 120,000 teachers annually. Kids In Need is a national 501(c)(3) charitable organization founded in 1995. For more information, visit kinf.org, and join them at twitter.com/kidsinneed & facebook.com/kidsinneed.
SHURTECH BRANDS, LLC
ShurTech Brands, LLC, markets DIY (Do It Yourself), EIY (Express It Yourself) and Home & Office consumer products under the Duck®, FrogTape®, T-REX® Tape, Painter's Mate Green® and Shurtape® brands. The company is a subsidiary of Shurtape Technologies, LLC, Hickory, N.C., an industry-leading producer of pressure sensitive masking, duct, packaging and specialty tape products, with facilities in the United States, Canada, United Kingdom, Germany, Mexico, Peru, United Arab Emirates and China. Shurtape services numerous markets, including industrial, packaging, HVAC, professional paint, auto, marine, aerospace, arts and entertainment, and retail. Shurtape also manufactures and markets the Shurtape® and Kip® brands. Visit shurtech.com for more information for more information.
Facebook® is a registered trademark of Facebook, Inc.
Twitter® is a registered trademark of Twitter, Inc.
Pinterest® is a registered trademark of Pinterest, Inc.
YouTube® is a registered trademark of Google, Inc.