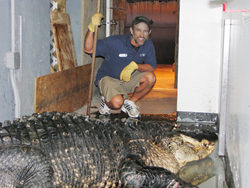 NEWPORT, KY. (PRWEB) October 07, 2015
Newport Aquarium, a leading cultural attraction in Greater Cincinnati for more than 16 years, announced Ric Urban as its first Chief Conservation Officer (CCO).
"Ric Urban's appointment to Chief Conservation Officer represents Newport Aquarium's expanded emphasis of wildlife conservation and environmental stewardship," said Eric Rose, executive director at Newport Aquarium. "Ric's focus in this new role is to create an environment of awareness, engagement and support from Newport Aquarium staff and guests by connecting them to wildlife and sharing with them an appreciation for the world around us."
As CCO of Newport Aquarium, Urban is responsible for developing partnerships that promote in-house and off-site conservation programs involving animals and ecosystems. Additionally, he is tasked with actively promoting Newport Aquarium's conservation messaging, both internally and externally, while continuing to serve as the Aquarium's primary zoological spokesperson.
"This new role is a great opportunity for Newport Aquarium to show the community that we are leaders in the zoo and aquarium profession, as well as leaders in conservation globally and in our own backyard," said Urban.
A member of the Newport Aquarium animal husbandry team since 2004, Urban helped increase the Aquarium's penguin collection from two species to six, hand raised its famous African penguins and implemented the Penguin Encounter program. He also helped bring Mighty Mike, a 14-foot and 800-pound American alligator, and two rare albino American alligators, Snowball and Snowflake, to Newport Aquarium.
A former president and board-of-directors member of the American Association of Zoo Keepers, Urban brings more than 30 years of zoological experience to the CCO position, which includes posts at five institutions accredited by the Association of Zoos and Aquariums (AZA).
Throughout his professional career, Urban has been highly involved with the AZA, serving as a member of the AZA's Animal Welfare Committee and Penguin Taxon Advisory Group, as well as an accreditation inspector.
Urban's field conservation experience includes projects supporting Humboldt penguins in Peru, Hawaiian forest birds in Oahu and Attwater's prairie chickens in Texas on the Gulf Coast.
As a biologist, Urban's zoological achievements include the world's first breeding of Hawaiian thrush (1996), long-tailed shrikes (1995) and crowned hornbills (1993). He was a member of the Houston Zoo team that received "Significant Achievement" accolades from the AZA in 1996 for the breeding of 10 species of birds and crows, and again in 1999 for breeding 15 of 16 species of turacos. In 1995, Urban became the first zoo keeper to video record nest-cavity activity of rhinoceros hornbills.
For more information on Newport Aquarium, visit NewportAquarium.com or call toll free 800-406-FISH (3474).
###
Newport Aquarium has showcased thousands of animals from around the world in a million gallons of water since May 15, 1999. Named one of the best aquariums in the U.S. by Travel Channel and USA Today, Newport Aquarium is a Herschend Family Entertainment company and an accredited member of the Association of Zoos and Aquariums. Newport Aquarium is open to the public 365 days a year and is located across the Ohio River from downtown Cincinnati at Newport on the Levee.
One Aquarium Way | Newport, KY 41071 | 859-261-7444
http://www.newportaquarium.com