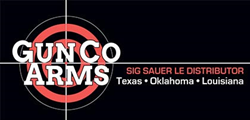 This opportunity allows us to give back to our first responders!
Wichita Falls, TX (PRWEB) October 08, 2015
GUNCO ARMS LLC was awarded the Sig Sauer LE Distributorship (SLED) for Texas, Oklahoma, and Louisiana. Scott Hinton, one of the owners of Gunco Arms, expressed his excitement, stating "this opportunity allows us to give back to our first responders!" First responders include active or retired law enforcement, court officials, state/county/city coroners, active and volunteer firefighters, EMT's, active duty and retired military, active reservists, active national guard, and NRA certified firearms instructors, with appropriate credentials.
Sig Sauer world renowned firearms are the weapons of choice for many of the premier global military, law enforcement, and commercial users. High quality, ultimate reliability, and unmatched performance have always been hallmarks of the Sig Sauer brand. In the USA, nearly 1 in 3 law enforcement professionals use Sig Sauer firearms. "We are proud that many elite military and government forces, including the U.S. Seals, the Federal Air Marshals, the Department of Homeland Security, and the U.S. Coast Guard, carry Sig Sauer firearms," said Ron Cohen, President and CEO of Sig Sauer.
This opportunity will allow Gunco Arms to work with Agencies for FET out purchases, used gun trade in programs, demos, and life-time agency warranty. Gunco Arms will provide Agencies with a huge selection of pistols, rifles, ammunition, and accessories with direct ship from Sig Sauer at the same pricing as one would expect to get from the factory! Choose from the P220, P224, P226, P227, P229, P239, P238, P938, P250, P290RS, P320, SP2022, or 1911 style pistols. And don't forget the SIGMPX-P, SIG556xi, P556xi, SIG516, MCX, SIG716, or SIGM400 rifles. All calibers Sig Sauer ammunition, holsters, mag pouches, magazines, barrels, grips, and rifle accessories, and even silencers.
Additionally, Gunco Arms can sell direct to individual officers (IOP) and first responders all the above mentioned pistols and rifles. Two easy ways to purchase! Come by Gunco Arms at 1002 Central Freeway, Wichita Falls, Texas, or visit Gunco Arms online at http://www.guncoarms.com, click the Sig Sauer LE logo, pick your gun, and we will ship the gun or guns to your nearest FFL Dealer. Best of all, there are no yearly limits on firearm purchases.
Agencies and individual officers and first responders from the following cities, and more, are served: (In Texas) Wichita Falls, El Paso, Abilene, Fort Worth, Dallas, Lubbock; (In Oklahoma) Lawton, Tulsa, Oklahoma City, Broken Arrow, Ponca City, Enid, Muskogee; (In Louisiana) Shreveport, Lafayette, Port Arthur, Lakes Charles, Baton Rouge, New Orleans. Ask us about your city! Gunco Arms is here for you. Agencies and individual officers and first responders can purchase from a local source and at the same time receive direct factory pricing without sacrificing any Sig Sauer products or services or personal service from a family owned and operated business – Gunco Arms, 1002 Central Freeway, Wichita Falls, Texas.
Gunco Arms proudly services our first responders and welcomes you to stop by and learn more! For more information on the Sig Sauer LE program, go to http://www.guncoarms.com. For more immediate questions, contact Scott Hinton at 940-766-5760 or email him at shinton(at)guncoarms.com.