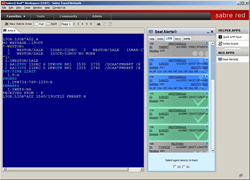 Receiving this award reinforces our belief that we are providing valuable tools for the travel industry as a whole -- Chris Lopinto
New York, NY (PRWEB) October 19, 2015
ExpertFlyer's Seat Alerts app for Sabre Red Workspace has received a 2015 Magellan Gold award from Travel Weekly magazine. The Magellan awards is the premier awards program honoring a broad range of industry segments including Hotels and Resorts, Travel Destinations, Cruise Lines, Airlines and Airports, Travel Agents and Agencies, Tour Operators and Car Rental Companies, and Online Travel Services, the category in which Seat Alerts was recognized.
First introduced as an app to help travelers automatically search for better airline seats, Seat Alerts can now be integrated directly into the GDS platform, via Sabre Red Workspace, or through an API for larger agencies that want to integrate the app directly into their custom backend solutions. Agents now have a way to be notified when the best seat becomes available, helping them deliver a new, and outstanding level of personal service to their customers. Agencies can download ExpertFlyer's Seat Alerts Red app from the Sabre Red App Centre.
"We are honored to be recognized by Travel Weekly for our Seat Alerts app for Sabre Red Workspace," explains Chris Lopinto, president and co-founder of ExpertFlyer.com. "The information and services available through our website is designed to help travel professionals and consumers maximize their time and resources. Receiving this award reinforces our belief that we are providing valuable tools for the travel industry as a whole."
The Magellan Awards are judged and overseen by a one-of-a-kind panel of top travel professionals representing the best names and most accomplished leaders from the industry. In determining winners, entries do not compete with one another, instead they are judged against a standard of excellence based on the long experience of Travel Weekly. To uphold this high standard of excellence, a category may have multiple winners, or may have no winners at all.
For a complete list of silver and gold winners, please visit http://www.travelweeklyawards.com.
About ExpertFlyer.com
ExpertFlyer.com was conceived and created by an eclectic team consisting of a veteran elite tier frequent flyer, an airline captain and corporate travel manager, and information technology professionals to deliver a 24/7 real time powerful air travel information service. The company provides its subscribers and corporate travel managers alike with a complete, concise and efficient way to access the ever-changing details of worldwide air travel information. For more information, please visit expertflyer.com.