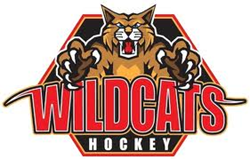 Mission Viejo, Ca (PRWEB) October 08, 2015
Wildcats Hockey is excited to announce they are partnering with Upside Group Franchise Consulting (USG) to offer franchise opportunities to entrepreneurs interested in providing their community with an elite hockey training program for young athletes of all ages and ability levels.
Founded by Ben and Joyce Frank out of a passion to do for kids what sports has done for their own lives, Wildcats Hockey "fuels passion" for young people by using the great sport of ice hockey to provide an environment in which kids find something they deeply enjoy. Wildcats Hockey offers programs for ages 8 & Under through 18 at all skill levels: AAA, AA, A, and B. Wildcats Hockey is recognized by USA Hockey as one of only 17 Model Associations nationwide for commitment to providing world class athlete development programs.
The Wildcats Hockey Club models its High Performance Program after USA Hockey's National Team Development Program in Michigan (NTDP). The NTDP and the Wildcats High Performance Program are designed to prepare committed hockey players for the highest level of play possible and is based on years of USA Hockey and NHL research. The Wildcats program adheres to proper practice-to-game ratios, on- and off-ice training plans, and much more.
Wildcats Hockey recently announced that starting in the 2015-16 season, the Wildcats 14U AAA, 15U AAA, 16UAAA, and 18UAAA teams have been accepted into the Eastern Junior Elite Prospects League (EJEPL). The EJEPL currently has forty-five (45) organizations representing fourteen (14) states in the USA. The League is loaded with talented players, and college scouts are finding many players worth pursuing for their teams.
Positive experiences in youth sports are what made Ben and Joyce who they are today, and that has created in them an immense passion to provide the same experience for children in a world that is becoming more sedentary. They also hope to provide an alternative to a trend in which many youth sports organizations have abandoned their focus on fundamental character and life skills in favor of a "win at all costs" mentality, at the expense of child development.
As Ben, Joyce, and the rest of the Wildcats Hockey staff venture into franchising, they are thrilled to bring this exciting youth sports concept to communities across the country as a way not just to teach young people hockey skills, but to instill lifelong values of sportsmanship, hard work, and teamwork. As the demand for youth sports continues to grow, Wildcats Hockey is looking to partner with qualified franchisors located in densely populated urban markets as well as suburban markets.
Mario Altiery, the President and founder of Upside Group, is pleased to be working with Wildcats Hockey. "It's a pleasure not just to help a thriving business grow, but also to bring quality athletic programs with a positive message to local communities."
About Wildcats Hockey
Anchored in Riverside and Carlsbad, California, Wildcats Hockey is a unique club recognized by USA Hockey as one of only 17 Model Associations nationwide, for its commitment to provide world-class athlete development programs. Partnered with the Positive Coaching Alliance (PCA), the goal of Wildcats Hockey is to develop young athletes to their full potential, not only as hockey players, but also as people. By using the sport of ice hockey, Wildcats Hockey provides an environment in which young people can find something they feel passionate about, and which they can love and enjoy all their lives." For more information, visit http://www.wildcatshockey.com/.
About Upside Group Franchise Consulting
Headquartered in Scottsdale, Arizona, Upside Group Franchise Consulting is a full service, boutique franchise consulting firm with offices across the country. They have a handpicked, professional staff with decades of franchise experience from all disciplines of the franchise industry. Upside Group Franchise Consulting offers their clients a full suite of franchise services including innovative franchise marketing programs, outsourced franchise sales, franchise sales training, franchise lead screening, franchise manuals, franchise marketing collateral, and award-winning web design. To learn more, please visit: http://www.upsidefranchiseconsulting.com.