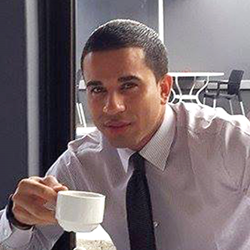 Hendersonville, TN (PRWEB) October 09, 2015
In his position, Nordine will be responsible for the strategic focus of the packaging division, as well as managing direct partner releations throughout the hot melt adhesive industry. ITW Dynatec Packaging Division provides hot-melt adhesive systems for state-of-the-art bonding solutions to various industries, such as agricutural, food and beverage, pharmaceutical, personal care products, chemical and cleaning.
Meniai brings with him an extensive background in sales, customer acquisition and more than ten years of successful global business development, having previously expanded markets in Europe, Africa and Asia. Nordine's resume includes five years at Anixter (American group) specializing in fasteners for the automotive sector in Southern and Eastern European markets. As Key Account Manager for Valeo, Dura Automotive, Nordine was responsible for increased sales from 700k€ to 8 Millions €.
During his tenure at Edgen Murray, part of Japanese Group SUMITOMO, a major company in the steel industry (2014 sales, 40 billion €), he firmly established the company's sales and service presence on the African continent, with further expansion to Europe and Asia. Under his leadership and direction, Nordine's team developed the company into the main steel industry supplier to the energy sector in ten countries across Africa.
With this addition of Nordine, who studied mechanical engineering at the UTBM/ESTA and received an MBA in Industrial Management., the company is well positioned for future growth in the EMEA region. "ITW Dynatec has an outstanding industry reputation for bonding and selaing solutions," he commented. "I'm excited to be joining such a highly regarded and capable team, and I look forward to contributing to the company's growth and success."
###
About ITW Dynatec
ITW Dynatec, a division of Illinois Tool Works Inc. (ITW), designs and manufactures a full range of industrial adhesive applications for the disposable hygiene products, coating and laminating and packaging industries worldwide. ITW Dynatec's fluid dispensing systems are used globally in the manufacturing of a wide range of consumer and industrial products. A worldwide network of industry-leading customer service and support backs the company's state-of-the-art technology. ITW Dynatec operates five world-class production facilities strategically located around the globe. For more information, please visit http://www.itwdynatec.com.
To learn more about ITW Dynatec solutions for the packaging industry, please contact:
Brittany Ulrich
Global Marketing Manager, Packaging
ITW Dynatec
31 Volunteer Drive
Hendersonville, TN 37075
T: 800.966.6358 Ext. 574
E: bulrich(at)itwdynatec(dot)com
For additional press information, please contact:
Ed Delia
Delia Associates
T: 908-534-9044
E: edelia(at)delianet(dot)com