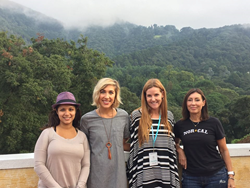 The bloggers are in for a life-changing experience.
Kansas City, Kan. (PRWEB) October 07, 2015
A team of five bloggers from around the U.S. landed in Guatemala for the second annual Unbound blogger trip. They will experience the world through the eyes of the people in the Unbound sponsorship program.
The blogger trip began last year to bring awareness about sponsorship to a larger community. The team will meet families, learn about their lives and hear their stories in the hopes that it will reveal the complex nature of global poverty and how through individual partnership and personal attention Unbound offers a solution.
Unbound is an international humanitarian organization based in Kansas City, Kan. working in 20 countries around the world to alleviate poverty.
Each blogger will share their daily experiences on Facebook, Twitter and Instagram using the hashtag #BlogUnbound.
Danielle Smith from St. Louis, Mo., is an award winning former television news anchor and reporter for The CBS Early Show, CNN's Headline News, Fox News, MSNBC, and more. She is motivated by good, seeking happiness and ways to focus on gratitude as she juggles raising her children, 11-year-old Delaney and 9-year-old Cooper, and running her business from home. She is the founder of Extraordinary Mommy, a parenting and lifestyle website, and the author of "Mom, Incorporated: A Guide to Business + Baby" and most recently "Social Media Engagement for Dummies."
Nadia Jones from Jacksonville, Fl., known as @JusticeJonesie to her social media friends, is the CEO of The Niche Parent Network & Conference, where she assists brands and agencies in executing blogger outreach campaigns. Nadia, who calls herself a "recovering lawyer," started blogging eight years ago. On her personal blog, Justice Jonesie, she shares stories on travel, food, bicultural parenting and more. Nadia has been featured on popular outlets such as Huffington Post Live, CNN's Headline News and Southern Living Magazine. Nadia has been named a Top People of Color Impacting the Social Web. She recently launched her second blog, MixedLatinas.com, in honor of her Mexican and Haitian heritage.
Gerard and Jessie Pepper have been "partners in crime" since 2005. Their relationship started over a clean pile of laundry, and now they dish about life, love and how to keep from losing your mind on a podcast called "Marriage Is Funny." Gerard loves his day job as a financial actuary, and Jessie continues to build her career as a lifestyle expert and her online brand at the blog, Style & Pepper.
Shelly Kramer is the co-CEO of V3 Broadsuite, a marketing agency specializing in the digital space. A marketing veteran of 20-plus years, she's a brand strategist focused on delivering integrated marketing solutions and helping businesses leverage the web for growth and profitability. More importantly, she's a wife, a working mom, a lover of words and quick repartee and an expert juggler.
Staff from Unbound's global headquarters in Kansas as well as Unbound staff in Guatemala will accompany the group October 4 -9, 2015.
"The bloggers are in for a life-changing experience," said Elizabeth Alex, community outreach and media relations director at Unbound, who will also be on the trip. "We can't wait to see the people they meet and culture they encounter."
About Unbound
Unbound is the largest nonprofit organization in Kansas with more than $120 million in annual revenue. Unbound works side by side with people of diverse faiths in 20 countries, bringing people together to challenge poverty in new and innovative ways.
Unbound distributes direct aid as quickly and efficiently as possible to people who need it. 92.5 percent of Unbound's expenses go toward program support.
###