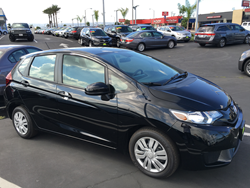 Los Angeles, Calif. (PRWEB) October 07, 2015
Mercury Insurance has been providing auto insurance to California drivers and families since 1962, covering everything from Audis to Teslas. Since all cars and trucks are not created equal in the realm of insurance, some vehicles are less expensive to insure than others.
Mercury's research and development team recently examined the top 100 make/model combinations for the 2012 – 2015 model years to compile a list of the least expensive cars to insure. The list was created based on the Mercury price for full coverage – liability, comprehensive and collision – in California.
Honda vehicles occupy three of the top four spots. Here is the complete top-10 list, beginning with the cheapest vehicle.
1. Honda Fit – subcompact car
2. Ford Fiesta – compact car
3. Honda CR-V – crossover SUV
4. Honda Pilot – crossover SUV
5. MINI Countryman – premium compact car
6. Ford Edge – crossover SUV
7. Scion XB – wagon
8. Mazda3 – compact car
9. Hyundai Elantra – compact car
10. Toyota Sienna – minivan
"There are many factors that go into calculating the cost to insure different vehicles, but the cost to repair them when they are damaged is at the top of the list," said Jim Reeves, Group Manager, R&D for Mercury Insurance. "The vehicles on our list, led by the Honda Fit, are more than 10 percent cheaper to insure than the average of all cars and trucks insured by Mercury. These savings can help reduce the cost of ownership, so you should always consider what it will cost to insure your new car when you're shopping for the perfect vehicle."
Mercury boasts more than 1,200 independent agents in California and is the state's leading writer of automobile insurance in the independent agency channel.
"Many consumers don't think about the cost to insure a car before they buy it," said Larry Dominique, president of ALG. "We heavily scrutinize data to determine a vehicle's future value, and car shoppers should take a close look at Mercury's list to see how insurance factors into the total cost of ownership and if one of these vehicles on the list is a good fit for their budget."
Based on the price for full coverage, here are the top five most affordable vehicles (listed in order) to insure with Mercury in 2016 by body style.
Convertible
1. Chrysler 200
2. FIAT 500
3. MINI Cooper Roadster
4. Mazda MX-5 Miata
5. Chevrolet Camaro
Coupe
1. MINI Cooper
2. Honda Accord
3. Kia Forte
4. Honda Civic
5. Nissan Altima
Hatchback
1. Honda Fit
2. Scion IQ
3. FIAT 500
4. Mazda3
5. Toyota Yaris
Pickup Truck
1. Chevrolet Colorado
2. GM Canyon
3. GM Sierra C1500
4. Toyota Tacoma
5. Chevrolet Silverado
Sedan
1. Ford Fiesta
2. Chevrolet Sonic
3. Mazda3
4. Hyundai Elantra
5. Honda Accord
Crossover SUV
1. Honda CR-V
2. Honda Pilot
3. Ford Edge
4. Ford Escape
5. Kia Sorento
Van
1. Toyota Sienna
2. Volkswagen Routan
3. Dodge Grand Caravan
4. Chrysler Town and Country
5. Honda Odyssey
*Other factors, such as a driver's experience and accident history, can push the rate up or down, but were not included in the rate calculations.
ABOUT MERCURY INSURANCE
Mercury Insurance (MCY) is a multiple-line insurance organization predominantly offering personal automobile, homeowners and commercial insurance through a network of independent agents in Arizona, California, Florida, Georgia, Illinois, Michigan, Nevada, New Jersey, New York, Oklahoma, Pennsylvania, Texas and Virginia. Since 1962, Mercury has specialized in offering quality insurance at affordable prices. For more information visit http://www.mercuryinsurance.com or Facebook and follow the company on Twitter.
###