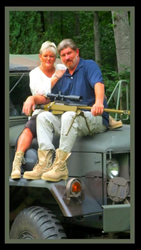 What we do is aggressive. We issue internet ass-kickings.
Chesapeake, VA (PRWEB) October 15, 2015
Don Shipley, a Chesapeake resident, has become a national sensation by exposing impostors in his web series, "Phony Navy SEALs of the Week." After watching several episodes, Michael J. Gaynor, a reporter for the Washingtonian, recently featured Don in an article entitled "Don Shipley's Special Ops." Gaynor's research involved participating in Shipley's "Extreme Seal Experience" boot camp. His first-hand account of the rigorous SEAL training under Shipley's instruction paints a colorful picture of Don's larger than life personality and gives readers insight to the driving force behind Don's determination to expose the cowards featured in phonyseals.com's "Phony Navy SEAL of the Week".
Don Shipley, a retired Navy SEAL, has made a full-time job of exposing frauds who steal valor. He does not waste his time on "bar room blow hards", but instead targets men who falsely claim to be former Navy SEALs in order to gain undeserved trust, boost their resume, intimidate and manipulate women, or con unsuspecting citizens out of money. The damage these phonies are doing in their communities and to the SEAL reputation is reprehensible, and Shipley is dedicated to doing something about it.
With his wife, Diane, by his side, Shipley records his face-to-face encounters with each phony he finds. Initially, Shipley released these justiceporn videos via YouTube, but YouTube decided to pull several episodes. Spike TV planned to pick up the show, but that too fell through. Determined to expose these phonies in a public shaming they deserve, the Shipleys placed each episode on their own subscription based website which allows them to maintain full content control.
In Don's words, "What we do is aggressive. We issue internet ass-kickings." Shipley continues, "We're in a minority of people willing to throw it all out there. If you don't stand for something, then you stand of nothing; and we've taken a stand on this stuff. And that's why we started this website."