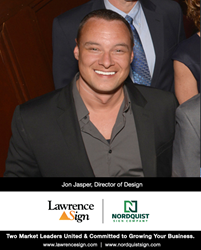 This promotion is well deserved and the entire Lawrence Sign and Nordquist Sign team congratulates Jon.
St. Paul, MN (PRWEB) October 07, 2015
As Director, Jon is responsible for coordinating the design work and its interpretation between architect, engineer and the customer to ensure the signage concepts connect with their expectations. Also, Jon will meet with customers to develop their company image and the most impactful signage types for their brand. The Design Department also controls the quality of the drawings created for manufacturing and has constant communication with the Production personnel to provide the customer high value signage.
A sixteen year veteran of the sign industry, Jon looks forward to sharing his experience and creativity with customers. "I'm excited to have the continued opportunities to execute powerful designs that not only catches people's eye but that also have a positive impact on the community", Jon said.
Jon is committed to keeping Lawrence Sign and Nordquist Sign equipped with the latest design software and printing technology to provide customers with a unique hands on sign sample which eliminates any uncertainty in the purchase. "The Design Department delivers three dimensional graphic illustrations of our design recommendations. We strive to make the customer's custom signage experience easy and exciting."
"Jon Jasper has demonstrated incredible leadership skills in the field of design and attaining cutting edge status with our products. This promotion is well deserved and the entire Lawrence Sign and Nordquist Sign team congratulates him," said Robb Walker, CEO.
About Lawrence Sign & Nordquist Sign
For more than 80 years, Lawrence Sign has been assisting prominent companies to grow with new locations coast to coast with their multi-site sign program. Lawrence Sign proactively manages every aspect of their customers' sign programs including design, regulatory compliance, fabrication and installation and ongoing maintenance.
Lawrence Sign utilizes advanced technologies and expansive facilities to provide direct in-house control of the entire sign fabrication process. The Company excels at serving companies with a multi-site national and international presence.
Nordquist Sign has been fabricating and installing interior and exterior signage, architectural elements and way-finding signage for more than 100 years. Nordquist's customer base and scope of work includes custom signage and environmental graphics for hospitals, sports facilities, themed entertainment, corporate/financial and mass transit industries. Nordquist Sign also maintains a gaming division with offices in Las Vegas, NV and St. Paul, MN to serve casino gaming markets throughout the United States.
In early 2012, Lawrence Sign combined with Nordquist Sign to unite the unique resources and capabilities of the two companies. Together, Lawrence Sign and Nordquist Sign offer their clients more than 175 years of experience in sign manufacturing and installation for all facets of the signage industry.