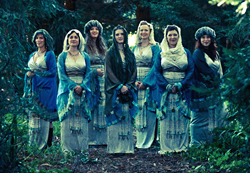 KITKA's songs are hauntingly beautiful, simple, yet otherworldly. . – SAN FRANCISCO BAY TIMES
San Rafael, CA (PRWEB) October 09, 2015
The Kanbar Center for the Performing Arts at the Osher Marin JCC is proud to present KITKA's Wintersongs. This women's vocal arts ensemble will perform their critically-acclaimed and wildly popular winter holiday program, showcasing seasonal music from a wide variety of Eastern European ethnic and spiritual traditions. For countless centuries, people around the world have utilized the power of community singing to infuse warmth, cheer, spirituality, wishes for peace, health, and good fortune into the long, dark, cold and difficult winter season.
Kitka's program features songs ranging from rousing Slavic folk carols and Caucasus Georgian hallelujahs; to lush meditative Eastern Orthodox sacred choral works and Bosnian-Muslim devotional hymns; from Yiddish, Sephardic, and Hebrew songs for Chanukah and Baltic pagan incantations for the return of the Sun Goddess, to rhythmic Balkan Romany tunes for the winter festivals. Traditional pieces will be woven together with new folk song arrangements and original compositions, all inspired by the customs, beauty, and mystery of wintertime.
KITKA's songs are hauntingly beautiful, simple, yet otherworldly. The rich sound these women produce resonates as if energized by the universe itself, as if it were calling all live beings and still matter into togetherness and unity. – San Francisco Bay Times
What: A multi-cultural celebration of "Wintersongs" performed by KITKA Women's Vocal Ensemble
Who: All are invited.
Seating: Reserved cabaret table seating & general admission choices
Tickets: $20 – $28 / Student discount for ages 17 & under
When: Sat. Dec. 12 @ 8:00pm | Doors @ 7:30pm | Cocktails/Concessions open @7:00pm
Where: The Osher Marin JCC, 200 North San Pedro Road, San Rafael.
Parking: Ample free parking. Accessing the Osher Marin JCC from Highway 101 is effortless, 1/2 mile E off 101.
Tickets: Available at marinjcc.org/arts
KITKA is an American women's vocal arts ensemble inspired by traditional songs and vocal techniques from Eastern Europe. Dedicated to developing new audiences for music rooted in Balkan, Slavic, and Caucasian women's vocal traditions. Kitka also strives to expand the boundaries of folk song as a living and evolving expressive art form.