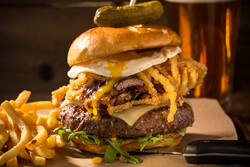 BOSTON (PRWEB) October 07, 2015
This week, Joe's American Bar & Grill debuted an all-new menu at its flagship location on Newbury Street. The fresh menu features more than 35 new items including small bites and shareable appetizers, harvest salads, flatbreads and gourmet burgers while also maintaining many guest favorites. In addition to new dishes, Joe's has also unveiled a redesigned printed menu and updated brand logo.
"We spent the past year engaging our customers and listening to feedback," said Tavistock Restaurant Collection CEO John Bettin "We wanted to make changes that reflect the evolving wants and needs of our guests while delivering the quality options they expect in the neighborhood setting they've always known."
The Joe's brand refresh process began more than a year ago when the restaurant group hosted focus groups designed to listen and learn from customers of all types from the long-time loyalist to the casual visitor. Based on guest feedback and modern demands, the decision was made to update and enhance the Joe's American Bar & Grill brand.
"We started by looking at a six-foot diameter around the guest and the restaurant elements he or she interacts with in that area," said Bettin. "Menu items, dish presentation, the printed menu, plates, utensils – that's where we made improvements to have the most impact on our guest experience."
When conceptualizing the new menu, the Joe's culinary team knew they wanted to introduce guests to new items while staying true to hallmarks of the brand – approachable dishes created using fresh, quality ingredients prepared in scratch kitchens. The chefs wanted to evolve the restaurant's all-American cuisine to reflect the modern taste of today's guest by introducing new menu items like the mojo pork sliders, open-faced barbecue brisket sandwich, and ramen shrimp bowl while also elevating the classics guests love like handcrafted burgers, mac and cheese, and Joe's famous New England clam chowder.
"According to the focus group feedback, guests wanted to see more appetizer-sized options, composed burgers, diverse flavors and modern dishes on the menu," said Joe's American Bar & Grill Regional Chef David Forbes. "Our guests dine in a variety of capacities – for a leisurely bite after work, power lunch during the day, or a family dinner on the weekends. The new menu options help enhance and accommodate different dining experiences."
The new menu initially debuted earlier this year at the Joe's American Bar & Grill in Braintree, Mass., then slowly rolled out to additional suburban locations during the summer and early fall before being introduced at Joe's two Boston locations on Atlantic Avenue and Newbury Street. With each new menu rollout, the restaurant conducted post-meal surveys to gauge customer feedback and refine the process moving forward.
"We learned a lot thanks to the new menu surveys and have made tweaks that best reflect the new vision for Joe's while also preserving the brand that has been a staple in the New England community for more than three decades," said Joe's American Bar & Grill Director of Operations Tom O'Brien.
Some highlights on the new menu include:
Shareable appetizers, flatbreads and small bites: Favorites like nachos, buffalo chicken tenders and crab cakes join a selection of crispy oven-baked flatbreads topped with premium ingredients. A variety of small bite options include deviled eggs topped with maple-Cajun bacon, street tacos, and hearty meatballs served with house-made pomodoro sauce.
Harvest salads: A fresh selection of salads made with seasonal vegetables, specialty toppings and house-made dressings. Newcomers like the Boston wedge, farmer's Cobb, and roasted beet and herbed lemon ricotta salad join Joe's favorites like the honey chicken, and kale and quinoa salads.
Gourmet burgers: New handcrafted burgers feature premium toppings. In addition to all-American beef, guests can also select alternate options with ahi tuna, lamb and turkey burgers.
Signature suppers: A modern take on classic dishes, options range from braised short rib meatloaf and mac and cheese, to fish and chips and ramen shrimp bowl.
Desserts: New indulgences include a tangy key lime tort, butterscotch bread pudding and salted caramel cheesecake.
Beverage options: In addition to an updated wine list and new craft beers, Joe's added hand-shaken cocktails, handcrafted non-alcoholic sodas, and a collection of after-dinner drinks.
Joe's also maintains its commitment to accommodate guests with food allergies. Signature burgers are available on gluten-free buns and a specialty mac and cheese can be made with gluten-free pasta and cheese sauce that's specially prepared on request. The restaurants also carry bread products from local New Hampshire bakery, Buckwheat's Gluten Free, and a selection of pastas from Connecticut's Bionaturae Gluten Free Pasta.
Rooted in the New England community since 1984, Joe's American Bar & Grill operates 12 locations including two in Boston. Joe's American Bar & Grill is one of 14 unique brands operated by Tavistock Restaurant Collection including Abe & Louie's, Atlantic Fish Co., and Coach Grill in the Boston area. For more information and to review the new menu, please visit thenewjoes.com.
ABOUT TAVISTOCK RESTAURANT COLLECTION
Tavistock Restaurant Collection is part of the Tavistock Group, an international private investment organization founded by Joe Lewis. The collection operates award-winning restaurant concepts including Abe & Louie's, Atlas, AquaKnox, Napa Valley Grille, California Cafe, Atlantic Fish, Coach Grill, ZED451, Joe's American Bar & Grill, Blackhawk Grille, Timpano, Cafe del Rey, Canonita, and Sapporo. For more information, visit http://www.tavistockrestaurantcollection.com.
###
Media Contact:
Karlee Kunkle
Communications and PR Manager, Tavistock Restaurant Collection
karleekunkle(at)tavistockrestaurants(dot)com
407-909-7225