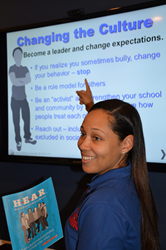 Atlanta, GA (PRWEB) October 08, 2015
Leading childhood education and psychology researchers at the Harvard Graduate School of Education and the University of Nebraska—Lincoln have teamed with educational training professionals at Career Training Concepts, Inc. (CTC) to create HEAR – Helping Everyone Achieve Respect. HEAR is a set of research-based bullying prevention programs designed to engage today's youth on what constitutes bullying, its consequences, and how they can help minimize bullying in their school environment.
HEAR combines unparalleled research and best practices with real-world student engagement. The result is a proven classroom-based solution that teaches students how to identify bullying and what they can do to help thwart this destructive behavior.
Richard Weissbourd, Ed.D., Director, Human Development and Psychology Program, Harvard Graduate School of Education and Co-Director of the Making Caring Common Project, pointed to the need to move beyond awareness of bullying and towards the hands-on instruction and active intervention approach embodied in HEAR. "While awareness of bullying in our schools has certainly grown over the past decade, teachers and school counselors still have an urgent need for cost-effective, data-based strategies and curriculum that engage students directly," said Dr. Weissbourd. "The success of HEAR shows that this type of approach to bullying prevention can engage students powerfully."
Susan M. Swearer, Ph.D., a licensed psychologist and Willa Cather Professor of Educational Psychology at the University of Nebraska—Lincoln and Co-Director of the Bullying Research Network, agrees. "Visibility alone doesn't go far enough," noted Dr. Swearer. "We based our development of HEAR for High Schools on a data-driven decision-making model for responding to bullying among high school students – and it is having a positive impact. The new HEAR for Middle Schools program now brings these same benefits to this vulnerable age group, where experts agree bullying is an even greater problem."
Lori Riley, a school counselor at St. Ansgar Schools in St. Ansgar, Iowa, relies on HEAR to teach students at her school about the principles of respectful behavior and active intervention in combating bullying. "I have had our National Guard representative present the HEAR presentation to students here for the past two years, and the students LOVE it! Many of them have shared that this presentation really made them think about their own choices and behavior as they commit to being part of a positive change. I highly recommend this program!"
Participation in HEAR offers the option to take part in Making Caring Common's Caring Schools Initiative, which provides schools with survey tools and resources that can prevent bullying behaviors and promote positive school culture. Data from HEAR's own survey of students who have experienced HEAR in their classroom reveals that this program successfully conveys the positive messages of bullying prevention, respectful personal behavior and active intervention:

90% of students surveyed feel H.E.A.R. helps them understand what bullying is and why people bully others.
88% feel H.E.A.R. gives them useful ideas for what to do if they witness bullying.
89% report the presentation influenced their commitment to respecting and including others.
HEAR for High Schools consists of a 50-minute interactive classroom presentation, 16-page student workbook, training manual, PowerPoint slides, a commitment banner, student survey and other valuable research and reference resources. HEAR for High Schools is presented at no cost to schools by trained members of the National Guard in alignment with the Guard's core principles and reputation for serving, protecting and defending our communities. Since its inception two years ago, more than 400,000 student workbooks have been delivered to the Guard for presentation to high schools in 46 U.S. states and the District of Columbia.
HEAR for Middle Schools is a similarly structured bullying prevention program recently developed to address the specific, age-appropriate needs of middle school students. HEAR for Middle Schools is now available at a relatively low cost-per-student as a stand-alone curriculum package, a fully delivered classroom service, or through a variety of curriculum materials and teacher training solutions. CTC is currently seeking corporate partners to help defray the cost to schools of experiencing the benefits of HEAR for Middle Schools. For information on how to sponsor HEAR for Middle Schools, contact Michael Ares at mares(at)careertrain.com.
For more, visit project-hear.us, and follow HEAR on Twitter at twitter.com/projecthearus and on Facebook at http://www.facebook.com/projecthearus.
About Career Training Concepts, Inc.
Career Training Concepts, Inc. (CTC) has over 40 years of experience in providing training, publications and personnel services solutions to meet specific customer needs in education, business and non-profit arenas. CTC led the creation of the HEAR program, drawing upon CTC's decades of experience developing and delivering education programs, including the Career Direction high school guidance program to more than five million students. For more information, please visit http://www.careertrainingconcepts.com.
Media Contact:
Michael Ares
678-294-3651
MAres(at)careertrain.com
To Schedule a Presentation:
Amy M. Smith, Ph.D.
Cell: 470-258-0404
Office: 678-405-5670
AmySmith(at)careertrain.com