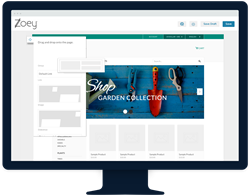 New York, New York (PRWEB) October 08, 2015
Zoey (formerly Pixafy), a powerful Magento-based eCommerce platform, today announced that it separated from its agency division to become it's own company, and released its biggest feature set yet.
Along with the name change, Zoey has released new innovative design tools. Zoey spent months researching, testing and building what is now one of the most powerful and intuitive design feature sets within the eCommerce category.
Key features include:
· Drag, drop, resize and edit any element such as text, images and widgets
· Extensive library of widgets such as "best selling products", "new products" and "recently viewed products"
· Create pages or templates for specific products, categories or promotions
· Make styling changes on the universal, template or device level
· Files like images are stored in an admin media manager, eliminating the need for FTP or code access
· Edit CSS in context, making it easier to locate code
Other platforms like Shopify and BigCommerce require code to make most design customizations where as with Zoey they are done through drag, drop and click actions. This reduces the time required to design and enables anyone to use it.
"Customizations that once required code development Zoey makes accessible to anyone. Online merchants seek power, style, ease of use and strong personal relationships when it comes to their eCommerce solutions. The world's most successful technology companies exude these values. It is for this reason we spent the last few months transforming the product and brand identity to better accommodate these four areas" says Uri Foox, Founder and President of Zoey.
To watch a video overview of the new design features visit http://www.ZoeyCommerce.com/themes.
About Zoey
Zoey changes the way businesses create sophisticated online stores. Built from Magento, Zoey has one of the most powerful feature sets of any eCommerce platform in the world, yet it's affordable and easy to use. Now anyone can leverage a modern, flexible and intuitive eCommerce solution that is full of big features.
Get to know Zoey by signing up for a free trial at http://www.ZoeyCommerce.com.