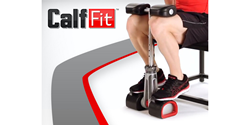 Calf Fit Propels You!
Hackensack, NJ (PRWEB) October 13, 2015
Calf Fit is a new, easy-to-use, portable exercise device that targets one of the body's most important but often overlooked muscles, the soleus muscle. Located underneath the calf muscle (and also referred to as part of the calf muscle), this muscle is known as the body's "second heart" since it is responsible for pumping majority of blood from the lower extremities back up to the heart. If this muscle is weak, it can inhibit the body's blood flow and effect the body's circulation and mobility, making it difficult to move without pain or discomfort. So having a strong, healthy soleus muscle is vital to having good venous circulation and strong mobility allowing people to do everyday activities such as walking, running, dancing, or even just standing up correctly with good posture.
"Though both men and women can benefit from using Calf Fit to strengthen their soleus muscle," Jamal Rollins, the inventor of Calf Fit says, "it is very important for women to learn about the soleus since the National Heart, Lung, and Blood Institute has stated that one in four women in the United States die from heart failure. It is also great for pregnant women to help reduce the risk for symptoms of varicose veins that often develop during pregnancy." As a former University of Iowa football player, Rollins invented Calf Fit to help address preventing ankle and knee injuries he saw himself and other athletes routinely getting due to having weak soleus muscles. After many years of research and product trials, he created Calf Fit as the simplest, most convenient way to find a solution to how anyone—at any age or fitness level—can best strengthen this crucial "skeletal muscle pump."
In only 30-50 reps that may take 1-2 minutes to do at a minimum of 3 times a week, 2 times a day (both morning and night), Calf Fit helps to keep the soleus muscle healthy and fit. Calf Fit is lightweight and portable so one can do it anywhere, either inside or out, and it is used sitting down, legs must be at a 90 degree angle to focus on the soleus muscle, so a person can even do it right from their bed or in front of the TV! Calf Fit will save careers and lives... It is affordably priced at $99.95.
Calf Fit, Inc. is owned and operated by Jamal Rollins and his partner Sean Harrington of The Harrington Group.Calf Fit is part of The Rollins Group LLC company of products. Founded in 2013 by Jamal Rollins. Kathy Smith "women's most trusted fitness icon" will be spokesperson for Calf Fit.
Women's second heart failure study:http://www.intechopen.com/books/cardiomyopathies/cardiomyopathy-in-women-second-heart-failure