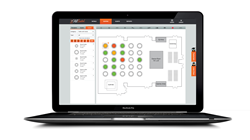 This partnership between AllSeated and CORT will help move the events industry into the more collaborative, digital age.
New York, NY (PRWEB) October 08, 2015
Just in time for the holiday party season, the fastest growing network for the event industry, AllSeated, has partnered with CORT Event Furnishings, the nation's leading furniture, lighting and accessories rental company, to provide event planners, venues, vendors and hosts a seamless way to create layouts for their events.
Since its launch in 2014, AllSeated has provided its growing user base of tens of thousands of event professionals with free, state of the art event planning tools such as seating charts, guest lists, scaled floor plans, 3D table layouts, event timelines and more. By partnering with a leading furniture rental company, event managers using AllSeated's platform will now also be able to view and easily plug in CORT furniture into their floor plans.
"We're very excited about partnering with CORT Event Furnishings to help event managers make their workflow easier and more efficient," said AllSeated's Cofounder Sandy Hammer. "This partnership will help us further our mission to move the events industry into the more collaborative, digital age."
As more and more event professionals seek innovative technology solutions to help enhance their creative process, AllSeated's planning platform is emerging as a leader in providing comprehensive and easy to use solutions for the events industry.
"At CORT, we are committed to meet the evolving rental and event needs of event professionals nationwide," said Kevin Dana, director of marketing and product development at CORT Event Furnishings. "The partnership with AllSeated will augment the experience of many meeting and event planners who already trust CORT for their rental needs by simplifying the way they plan corporate events, fundraisers and weddings."
About AllSeated
AllSeated is the fastest growing network for the events industry, powered by free, state of the art, cloud-based event planning tools. It brings together hosts, venues, planners and vendors to collaborate seamlessly on every aspect of event creation including seating charts, guest lists, scaled floor plans, 3D table layouts, event timelines and more. Among AllSeated's tens of thousands of users are The Mandarin Oriental, Marriott, The Plaza, United Nations, LinkedIn, David's Bridal, celebrity event planners Harriette Rose Katz and Arthur Backal, and the Breast Cancer Research Foundation. AllSeated came out of beta in 2014 and is headquartered in San Francisco. The company is backed by Magma Ventures. More information can be found on http://www.allseated.com.
About CORT Event Furnishings
CORT Event Furnishings, a part of CORT, a Berkshire Hathaway Company, is the leading nationwide provider of rental furnishings for the exhibit and events industry. From high-profile special events to corporate meetings to weddings, CORT provides the rental furnishings that make exhibitions and events possible. CORT also provides rental furniture to the majority of trade shows and conferences in the nation, including shows and events in Canada. For more information, visit http://www.CORTevents.com.