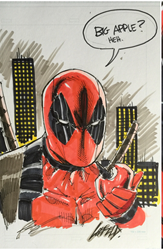 Los Angeles, CA (PRWEB) October 07, 2015
While 20TH Century FOX may not be attending NYCC with their highly anticipated movie (due out February 2016), Deadpool will still be represented in a big way at New York Comic Con (NYCC) from October 8th to October 11th 2015 as creator, author and writer of the Deadpool comic book series, Rob Liefeld will be in attendance to celebrate the Merc with a Mouth's 25th Anniversary.
To celebrate the milestone Rob will be doing some things exclusive to NYCC. On Friday, October 9th and Saturday October 10th Rob will be signing for the first time in 25 years alongside Deadpool writer/artist Fabien Nicieza from 2pm to 5pm in Aritst's Alley. Neither of them have signed together or appeared together in over 20 years so this is a rare chance to meet both of them and see them both in action. In addition to this, Rob has designed a Deadpool variant cover for Marvel's Invincible Iron Man #1. You can purchase the cover exclusively at NYCC.
Rob will also celebrate the milestone by reprising the extremely popular Deadpool Sketch hunt he started at this year's San Diego Comic Con. From Thursday October 8th to Sunday October 11th follow along on Rob's Twitter (@robertliefeld) and Instagram (@robliefeld) for clues on where these exclusive never before seen sketches will be hidden. They will be hidden in and around the NYCC Javits Center immediate area. As with SDCC these sketches will be found fast so make sure to think fast if you want to get your hands on one of these exclusive pieces.
In addition to celebrating Deadpool's anniversary Rob has designed the cover for Crackle and Bryan Cranston's Supermansion #1 Comicbook cover to debut at NYCC. On Sunday October 11th, l from 230PM to 330pm Rob along with Supermansion's Bryan Cranston, Seth Green, Tom Root, Matthew Senreich and Zeb Well will sign copies of the Supermansion #1 comic at the NYCC Autograph area. The cover will debut on Nerdist.com exclusively the lead up to NYCC.
For more information on Rob Liefeld visit http://www.robliefeldcreations.com/
##
For More information on Rob Liefeld Contact
Phillip Christian Public Relations
Paul(at)phillipchristianpr(dot)com
949-379-0844