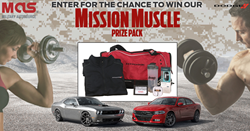 WOOBURY, NY (PRWEB) October 08, 2015
Military AutoSource (MAS), the on-base distributor for Dodge, is promoting muscle cars and fitness among U.S. military personnel stationed overseas during their sponsored "Mission Muscle" giveaway. During the promotion, running now until November 9th, overseas military can enter at http://www.militaryautosource.com/muscle for the chance to win a fitness package, valued at $500. Military AutoSource has also partnered with U.S. Navy Veteran and Personal Trainer, Linton McClain, to write supporting military fitness articles for "Mission Muscle" on the MAS blog.
To be eligible for "Mission Muscle", entrants must be active U.S. Military stationed or deployed overseas. One winner will be randomly selected to win the Fitness Package that contains:

Fitbit
$200 GNC Gift Card
Ear Buds
Dodge Duffel Bag
Dodge Zip Up
Protein Shake Bottle
Military AutoSource has a core value to always support the military community. "Mission Muscle" was created to target the interests of many young military members with interests that are top of mind, including muscle cars and personal fitness. Not only is staying in top physical condition during a deployment overseas necessary for U.S. Troops, but many look at fitness as a main source of entertainment. "Ultimately, your physical conditioning affects your performance in all areas," writes McClain "The reality of active duty military members is that we are most active when deployed."
Military members are encouraged to visit http://blog.militaryautosource.com/physical-fitness-test-simplified/ to read McClain's first article "Physical Fitness Test (PFT) Simplified", and to learn more about the Dodge muscle car lineup and exclusive military discounts.
About Military AutoSource
Military AutoSource (MAS) is a subsidiary of the Overseas Military Sales Corporation (OMSC). For over 50 years, Military AutoSource has been serving the military community by providing U.S. specification automobiles to active duty military, civilian, DOD employees and the diplomatic community stationed outside the United States. The on-base division of Military AutoSource, formerly known as Exchange New Car Sales, is authorized by the AFFES/NEXCOM program. You can learn more about Military AutoSource at http://www.militaryautosource.com.