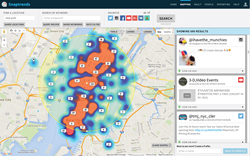 We continue to expand the relevance, predictive insights, reach and scalability of our product to enhance our clients' earnings and operating margins in measurable ways through actionable social insights." - Eric Klasson, CEO & Co-Founder
Austin, Texas (PRWEB) October 08, 2015
Snaptrends, the world's leading location-based social intelligence system, is continuing its rapid expansion into the multi-billion dollar worldwide corporate market with the addition of multiple global social media networks and a migration to cloud-based computing provider Amazon Web Services (AWS). The recent additions of Russia-based VK (VKontakte), Google+, and other primary global social networks allow Snaptrends to draw in more location-based insights and provide organizations with vital information from social media users around the world. With more than 2 billion active social media accounts worldwide providing a wealth of information including consumer trends, workforce sentiment, and organizational security, executives across all industries recognize the need for a truly global location-based social media intelligence system.
For international organizations, gaining access to conversations, trends and sentiments in markets around the world on a regional and local level is crucial. Interpreting foreign language posts generated across the global user base of social networks is no longer an issue with Snaptrends' ability to instantly translate content into more than 80 languages. "We're broadening the scope of our searches with new networks, while also focusing on specific location-based searches to give our users more actionable insights from worldwide social data sets," says Todd Berry, Snaptrends' Vice President of Engineering. "With the addition of one of the most popular social networks outside of the U.S. along with Google+ and other worldwide networks, Snaptrends is providing our clients with the most comprehensive global social media coverage."
To support the new networks and the accompanying influx of data, Snaptrends recently transitioned to global cloud-based AWS, which increases the system's security and performance and provides a better overall user experience. "Within 24 hours of migrating to AWS, Snaptrends users saw a 20% performance increase," says Berry. "AWS is the largest global cloud platform and gives Snaptrends the ability to provide our clients with a faster, safer experience as well as a stable environment to scale our system as we continue to grow and add more networks and features."
Global corporations are taking note of the rich data source social media has proven to be, and as Snaptrends continues to develop it's powerful and versatile system, those corporations are expanding their budgets to include room for social intelligence. Eric Klasson, CEO and Co-Founder of Snaptrends notes, "Social insights no longer create value for just the CMO. We expect every global corporation to deploy social media intelligence solutions across all executive functions and down into the organization at the store and operating levels in the very near future. We continue to expand the relevance, predictive insights, reach and scalability of our product to enhance our clients' earnings and operating margins in measurable ways through actionable social insights."
To find out more about Snaptrends, go to http://www.snaptrends.com or watch the Quick Tour Video.
About Snaptrends
Founded in 2012 and based in Austin, Texas, Snaptrends offers the only location-based social media insights system to empower organizations in all industries to visualize conversations around their brands, products, services, executives, influencers and competition. Our advanced software captures, analyzes and organizes social media content in any specified geographic location automatically so users can easily and quickly find what matters most to them. Snaptrends' patented technology processes billions of geo-tagged social media posts every month and translates more than 80 languages so nothing is out of reach.