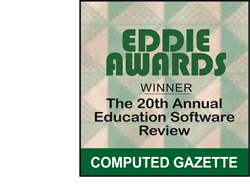 We believe IEPPLUS 5 can help special education teams increase meaningful collaboration, be more informed, focus on student success, and hit the ground running with minimal training.
Carlsbad, Calif. (PRWEB) October 14, 2015
SunGard K-12 Education today announced the IEPPLUS 5 special education management system was named Best Special Education Management Website in ComputEd Gazette's 20th Annual Education Software Review Awards Program (EDDIE Awards).
The IEPPLUS 5 special education management solution provides a more fluid, dynamic experience for special education. By leaning on smart technology, IEPPLUS 5 helps take the burden of procedural compliance and data validation off the shoulders of a school district's staff. Customizable workflows in IEPPLUS 5 permit a special education team to set up processes that mirror the way they work. Form validation, real-time proactive compliance monitoring, rapid regulatory updates, and comprehensive regulatory form packages support strong procedural compliance.
With compliance on autopilot, special education teams have more time to focus on student achievement. Growth can be captured and shared in real time so that all team members are better informed and common goals are easily recognized, which helps collaboration become the norm. Contextual information helps special education teams learn more without having to search the data. In addition, IEPPLUS 5, with its intuitive user interface, is accessible from whatever tablet, laptop, or desktop a school district's team members have at their fingertips.
The EDDIES target innovative and content-rich programs (including apps for iPad and Android) and websites that augment the classroom curriculum and improve teacher productivity, providing parents and teachers with the technology to foster educational excellence. Some selection criteria are academic content, potential for broad classroom use, technical merit, subject approach, and management system. Winners were selected from titles submitted by publishers worldwide.
In its review of IEPPLUS 5, ComputEd Gazette wrote, "The website design is sophisticated and uncluttered…The convenience and inclusiveness of IEPPLUS cannot be overstated."
George Saunders, SunGard K-12's IEPPLUS product manager, says the K-12 administrative software and technology services company is honored by this recognition. "We are pleased that IEPPLUS 5 has been recognized in the EDDIE Awards Program," he said. "We believe IEPPLUS 5 can help special education teams increase meaningful collaboration, be more informed, focus on student success, and hit the ground running with minimal training."
About SunGard K-12 Education
SunGard K-12 Education offers software solutions designed to help teachers, administrators, and parents support student achievement. The PLUS 360 products are a single integrated suite of software solutions for the management of student information, assessment and curriculum, special education, and financial and human resources. The suite—which provides district staff with anytime, anywhere access to important district information—can be deployed to work together to help meet educational goals and requirements or implemented as stand-alone systems. For more information, visit SunGard K-12 Education at sungardk12.com.
About SunGard
SunGard is one of the world's leading financial software companies, with annual revenue of $2.8 billion. We provide solutions for financial services, the public sector, and education. Our software is delivered via Software as a Service ("SaaS"), in the cloud and on premises, surrounded by an extensive suite of service offerings. Through the depth and breadth of our solution portfolio, global capabilities, and domain expertise, we are uniquely capable of supporting virtually every type of financial organization, including the largest and most complex institutions in the world. SunGard's approximately 13,000 employees proudly serve approximately 14,000 customers in more than 100 countries, bringing fresh ideas and inventive solutions to help our customers adapt and thrive. For more information, please visit http://www.sungard.com.
Trademark Information: SunGard, the SunGard logo, IEPPLUS, and PLUS 360 are trademarks or registered trademarks of SunGard Data Systems Inc. or its subsidiaries in the United States and other countries. All other trade names are trademarks or registered trademarks of their respective holders.
© SunGard 2015. All rights reserved.