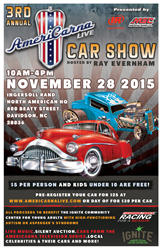 AmeriCarna LIVE is a great day for car lovers of all ages...
Davidson, NC (PRWEB) October 08, 2015
On Saturday, Nov. 28, more than 3,000 car lovers are expected to attend the third annual AmeriCarna LIVE Car Show in Davidson, NC. The event will raise funds to benefit IGNITE, the Autism Society of North Carolina's community center for young adults with high-functioning autism or Asperger's Syndrome.
AmeriCarna LIVE will feature celebrity cars as well as classic, custom, and collector cars on the Ingersoll Rand North American Headquarters and Corporate Center. The event is presented by Ingersoll Rand and MSC Industrial Supply Co. and hosted by Ray Evernham, former NASCAR championship crew chief, star of the "AmeriCarna" television show on Velocity, and founder of IGNITE.
"AmeriCarna LIVE is a great day for car lovers of all ages," Evernham said. "In the first two years of the event, we have had an incredible lineup of cars, a great turnout of attendees, and terrific partners. We expect the third edition of the event to be even better and hope to raise more money for the IGNITE center."
A special display of cars from Ray Evernham's television series AmeriCarna will be on hand, along with cars from the personal collections of NASCAR's biggest stars.
The show is open to the public for $5 per person and kids under 10 are free. Car owners can pre-register their vehicles for $25 or register at the gate on event day for $30. Gates open for car entrants at 7 a.m. and for spectators at 10 a.m. Go to http://www.americarnatv.com/americarna-live/americarna-live-2015/ to register your car. A variety of food vendors will be available.
IGNITE, which was founded with support from the Evernham Family-Racing for a Reason Foundation, offers activities, skills training, and educational workshops that foster social, financial, educational, and employment independence for its members.
"IGNITE is a unique program that has really helped its members," said Tracey Sheriff, CEO of the Autism Society of North Carolina (ASNC). "The program provides a social support network, life skills training, employment support, and the confidence to become more involved in the community. Members have made great strides with the help of the IGNITE staff. We are grateful for the support of the Evernham Foundation and encourage everyone to come out on November 28 to support the third annual AmeriCarna LIVE event."
Background:
About AmeriCarna Live:
For event updates, go to http://www.AmericarnaLive.com. For more information on Ray Evernham, follow him on Twitter @RayEvernham.
About IGNITE and the Autism Society of North Carolina:
For more information on IGNITE, a program of the Autism Society of North Carolina, visit http://www.ignite-davidson.org.
For more than 45 years, the Autism Society of North Carolina has worked to address areas of need and expand services and support for individuals on the autism spectrum and their families in North Carolina.
For more information, call 1-800-442-2762 or visit http://www.autismsociety-nc.org.
About Autism:
Autism Spectrum Disorder (ASD) is a lifelong developmental disability that typically appears during the first three years of life. As many as 1 in 58 children may be diagnosed with ASD in North Carolina, according to a prevalence study by the CDC of 8-year-old schoolchildren.