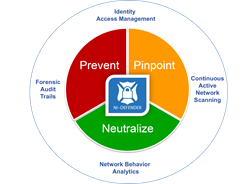 NI-DEFENDER prevents, pin-points, and neutralizes cybersecurity threats in SDN, NFV and today's networks
Ottawa, Ontario (PRWEB) October 08, 2015
Visitors to the SDN & OpenFlow World Congress, taking place 12 to 16 October in Düsseldorf, Germany, will have the opportunity to meet representatives from Nakina and see NI-DEFENDER, the company's recently announced Secure Networking Auditing Platform for SDN, NFV, and today's networks.
Nakina will demonstrate how NI-DEFENDER enables service providers to prevent, pin-point, neutralize network cybersecurity threats across hybrid networks, while enabling network and security teams to keep pace with the DevOps. Nakina will be demonstrating NI-VIEWER, the platform's data visualization and analytics system.
Rob Marson, Nakina's Vice President of Global Marketing, will be speaking on a panel debate – SDN and NFV: Meeting User Needs, beyond "Monetisation", Revenue and Cost, on Wednesday, October 14th.
NI-DEFENDER is part of a holistic security and network integrity software strategy that provides Privileged Identity Access Management, Network Configuration Scanning and Analytics. NI-DEFENDER integrates Nakina's best-in-class network integrity applications NI-GUARDIAN and NI-CONTROLLER, and overlays NI-VIEWER for data visualization providing real time, service-aware, contextual, data visualization and reporting.
To arrange a meeting with Nakina at this or other upcoming events, visit the company's events page.
About Nakina:
Nakina offers a suite of Network Integrity applications for securing, managing and optimizing physical and virtual networks. Nakina's applications are built upon our Network Integrity Framework - open and modular software platform that abstracts network complexity, normalizes multi-vendor management, and bridges the physical and virtual worlds for Management and Orchestration systems. Our software is proven, trusted and protects the world's largest and most important networks.