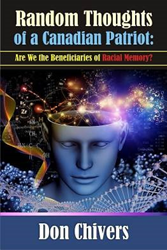 "'Random Thoughts' offers an eye-opening look at the world's many problems." - Robert Fletcher, CEO of Strategic Book Publishing and Rights Agency
(PRWEB) October 12, 2015
As Canada's federal election approaches on Oct. 19, the book "Random Thoughts of a Canadian Patriot" takes on even more importance and timeliness. The book reveals the significant possibilities of multiculturalism and also considers the long-range effects of a changing economic world in relation to Canada.
When it comes to election day, the large number of political parties in the country is shown as a disadvantage for a federal election ever gaining a majority government receiving over 50 percent of the vote. Theoretically, in just a three-party race, one party could name the prime minister with just 34 percent support.
"Random Thoughts" randomly throws light on many other subjects, including Canada's much-touted health care system, and how Canada's costly social programs can lead to a spiral of "thinning the wealth," with government the main beneficiary. One chapter defines the relative strength of money, while another addresses the need for world cooperation in dealing with global warming. The author also asks why mankind has became confrontational over religious controversies. "Random Thoughts" offers an eye-opening look at the world's many problems.
Watch the video on the attached pdf or at: http://www.youtube.com/watch?v=Rl0sFnFqAVE&feature=youtu.be
About the Author: Raised in Cardiff, Wales, Don Chivers now calls White Rock, British Columbia home. A World War II veteran, he was a hospital administrator before retirement. His photographic memory helps with his writing and he is now working on his next book.
"'Random Thoughts' offers an eye-opening look at the world's many problems. We are proud to be the publisher," said Robert Fletcher, CEO of Strategic Book Publishing and Rights Agency.
RANDOM THOUGHTS OF A CANADIAN PATRIOT: ARE WE THE BENEFICIARIES OF RACIAL MEMORY? (ISBN: 978-1-62516-934-1) is now available for $29.95 and can be ordered through the publisher's website: http://sbpra.com/donchivers or at Amazon.com or Barnesandnoble.com.
WHOLESALERS: This book is distributed by Ingram Books and other wholesale distributors. Contact your representative with the ISBN for purchase. Wholesale purchase for retailers, universities, libraries, and other organizations is also available through the publisher; please email bookorder(at)aeg-online-store(dot)com.