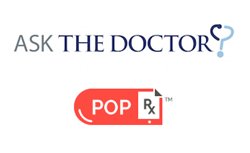 Getting a prescription from a doctor without ever having to leave your home is the future and that future is now.
Toronto, Ontario (PRWEB) October 07, 2015
Ask The Doctor, the world's leading medical question and answer platform has teamed up with Canadian start-up PopRX to provide prescriptions from its video platform.
"Imagine video chatting with a top local doctor on your smartphone and then receiving your prescription medication delivered right to your home within a few hours. That's the power of our platform and partnership with PopRX," says Prakash Chand, President & CEO of ATD Health Network Inc. (parent company of Ask The Doctor)
Ask The Doctor receives thousands of questions every month from its large Canadian user base. These users will now have the ability to not only get face-to-face video advice from a board certified doctor, but the doctor now has the ability to send a prescription medication right to their doorstep within just a few hours.
"The cost saving potential for our healthcare system is massive," says Dr. Ali Esmail, founder of PopRX. He adds "Being a physician in the Canadian healthcare system I've seen many patient visits that could have been handled online. We can save our healthcare system hundreds of millions of dollars by avoiding these unnecessary visits and now using PopRX we can even deliver prescriptions right to the patients door."
Ask The Doctor and PopRX will roll out the new online prescription platform in the next coming months in BC, Manitoba and Ontario, with expansion plans in every Canadian province by mid 2016.