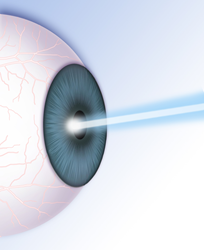 No one should have to drive an hour-and-a-half to Salt Lake City just to undergo a routine surgery like a cataract removal. That's why we're proud to offer advanced eye surgery to people around Logan. - Dr. Matthew Hammond
Logan, Utah (PRWEB) October 12, 2015
Logan Eye Institute announces it's the only eye care center in Logan, Utah that performs cataract surgery. While there are other eye care centers in the city, none of them offer options for cataract removal, a major distinction that sets Logan Eye Institute apart.
"Given how many people develop cataracts each year, it's a privilege to be the eye care center that patients in Logan turn to if they require surgery," said Dr. Matthew Hammond. "We love the community, and we love our patients, and being here for them is one of the ways that we can show our appreciation."
Cataracts Are a Common Eye Health Issue
Cataracts are one of the most common causes of vision loss, affecting more than 20 million people in the United States. The condition involves the clouding of the clear lens of the eye. This results in problems with vision quality as well as a whitening of the colored portion of the eye where the lens is located. In its early stages, cataracts may lead to problems with clarity and sharpness. If allowed to progress, a cataract can lead to significant changes to a person's vision.
Thankfully, cataract removal is one of the most routine surgical procedures in the United States. More than 3 million Americans who develop cataracts have them surgically removed each year.
Serving Patients Throughout Northern Utah
"Cataracts are so common and yet here we are, in a region of the state where there are few eye care centers able to perform this routine procedure," said. Dr. Hammond.
Logan Eye Institute has served countless patients based in Logan, as well as other cities throughout Cache County, Weber County, and Rich County.
"No one should have to drive an hour-and-a-half to Salt Lake City just to undergo a routine surgery like a cataract removal," said Dr Hammond. "That's why we're proud to offer advanced eye surgery to people around Logan."
Laser Surgery: A State-of-the-Art Approach to Treating Cataracts
Logan Eye Institute uses state-of-the-art digital mapping and laser technology when performing cataract surgery. This all-laser approach to cataract removal makes the procedure much safer and more effective than it was in previous generations. Physical tools have been replaced with precise lasers, reducing human error and practically eliminating the potential for infection during cataract surgery.
In addition to the use of highly accurate laser technology, Logan Eye Institute also offers standard monofocal intraocular lenses (IOLs) and premium intraocular lenses (IOLs). These are used to replaced the clouded lens of the eye and restore overall vision quality. The ideal IOL for the patient can be discussed during the consultation process with Dr. Hammond.
A Continued Commitment to Patients and Their Wellness
Logan Eye Institute is pleased to provide people throughout Northern Utah with state-of-the-art cataract surgery, custom LASIK surgery to treat refractive errors, and routine eye exams and optometry services.
"It's all part of our love for this community and this part of Utah," said Dr. Hammond. "When we're helping patients here at the office, there is no other place that we'd rather be."
Schedule a Consultation at Logan Eye Institute
For more information about cataract surgery and cataract prevention, contact Logan Eye Institute. The team at Logan Eye Institute can also be reached by using the information below.
Logan Eye Institute
810 S 100 W, Ste A
Logan, Utah 84321
(435) 787-7200
Originally posted by Matthew Hammond.