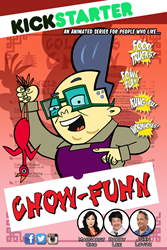 Los Angeles (PRWEB) October 08, 2015
Jon Lovitz, Margaret Cho and Bobby Lee are set to voice lead characters in Chow-Fuhn, the first ever animated "Sci-Foodieomedy" series about the cut-throat business of food trucks, billed as a chef vs. chef bonanza for people who like food trucks, fowl play, and science fiction. This hilarious and irreverent look inside the highly competitive food truck industry comes from creator Gabriel DeFrancesco best known for his work as a director on The Simpsons.
Chow-Fuhn started when DeFrancesco was the unassuming recipient of a "sneak attack" from a local food truck when the dish he actually ordered was no longer available, he was served whatever the cooks in the truck could throw together to make a dish. Reminded of Sushi Nozawa, an omakase (chef's choice) style restaurant and inspiration behind Seinfeld's "Soup Nazi", Francesco thought "what if there was an omakasesque food truck BUT the customer didn't know it? What if its proprietor wasn't even the nationality of the food served?" Later that evening Colonel Chow and his signature omakasesque dish, the Pearl Harbor, were sketched out on a dinner and Chow-Fuhn was born.
The series was casted by Emmy Award winning casting director Linda Lamontagne with Gerhard Fuhn, being voiced by Jon Lovitz, as The Wienie Genie the owner of the first Michelin rated wiener truck and arch enemy of Colonel Chow, voiced by Bobby Lee. Margaret Cho portrays Mimi, the Colonel's daughter and sous chef.
This is the third solo project from DeFrancesco, who is also producing and directing this animated series through his own production banner Company One, and his first project launched with a crowdfunding campaign on Kickstarter. Disenchanted with the traditional animated series route, DeFrancesco has plans to fund the initial three episodes through crowdsourcing, with hopes to turn the series into a longer format show.
Previous animated projects for Company One include Trading Up starring Harland Williams, Snoop Dogg and Lavell Crawford and Roman Holiday starring Dave Matthews, George Takei, Patrick Warburton, Cyndi Lauper, Flea and David Koechner. A graduate from the prestigious Rhode Island School of Design, DeFrancesco began his Hollywood career working under Seth McFarlane at Family Guy.