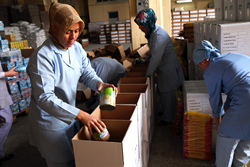 For the first time, families we help in Syria said they depend on our food aid to survive.
Washington, DC (PRWEB) October 08, 2015
The growing involvement of Russia in the Syrian conflict is likely to lead to even greater civilian displacement and further complicates delivery of lifesaving humanitarian assistance, warns the global organization Mercy Corps in testimony to the House Committee on Foreign Affairs, Subcommittee on the Middle East and North Africa. In addition, the possible redeployment of armed opposition groups to areas targeted by Russian strikes will likely have a major impact on the fragile balance of power in places like Aleppo city and North Aleppo governorates. This shift leaves areas vulnerable to the possibility of ISIS gaining footholds in additional territory.
"People are increasingly moving closer to the border with Turkey so they can cross if things get too bad," says Michael Bowers, Vice President for Humanitarian Leadership and Response at Mercy Corps.
Moreover, the ability to provide lifesaving aid throughout the region is severely jeopardized as Mercy Corps balances the urgent need to both protect valuable stock for unforeseen emergencies and ramp up distributions to those in need. The organization is stocking up supplies in areas where civilians may be cut off and strategically repositioning its staff.
After four years of civil war, many civilians are left completely reliant on humanitarian assistance. "For the first time since Mercy Corps started delivering aid into the Aleppo governorate three years ago, families we spoke to said that they depend on our food aid to survive; their personal resources are now completely exhausted," says Bowers. Mercy Corps has one of the largest operations delivering food assistance in Syria, reaching an estimated 500,000 people per month.
According to Mercy Corps, the biggest obstacle to aid delivery in Syria continues to be access. As a result, tens of thousands of civilians are not receiving any kind of help from any humanitarian organization or the United Nations. The Syrian regime continues to restrict access; in some areas, agencies wait up to eight months for permission to reach civilians in need. And aid workers, including Mercy Corps' partners, routinely have to negotiate access across numerous conflict lines in order to deliver lifesaving supplies.
Read or download Mercy Corps' written testimony, which includes a detailed account of the current humanitarian situation and recommendations to Congress.